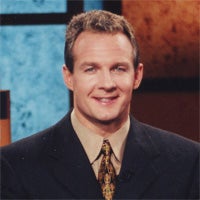 Yesterday, the swirling melodrama around Vince Young's crazy head reached another level when transcripts of Merril Hoge's interview with a Pittsburgh radio station circulated. Even though Hoge's Young-bashing has been evident since the quarterback entered the league, he went a little overboard this time around. His quote: "He's a baby. He's a soft baby. He's been a baby since they .... I stumbled across people who recruited him in college. They really tried to get him to go to Oklahoma. One of reasons they stopped their recruiting process was because he was such a baby . . . He was the most immature crybaby they ever met. He was soft; he wasn't tough." In that interview, Hoge also disclosed that Jeff Fisher didn't want to draft Vince Young, Young drove to the practice facility in a limo and adamantly stated that Titans' players are thrilled that Young's injured because they're "better without him." Fisher defended his quarterback and told the Tennessean that all of Hoge's reports were "incorrect." Hoge told the paper that he wasn't surprised Fisher defended his player but added that he will never utter another word about Vince Young's horribleness:
"One thing I would like to never talk about again though is VinceYoung. I am so done with his stuff and how it has turned out. I feel bad for him as a person, and it bothers me it has gotten so deep because I have nothing against him as a person ''.
When Merill Hoge observes a "No Vince Young Bashing" policy, you know the concerns about the butterfly quarterback's fragile mental state must be serious.
Fisher, ESPN's Hoge Try to Clear Up Young Comments
[Tennessean]