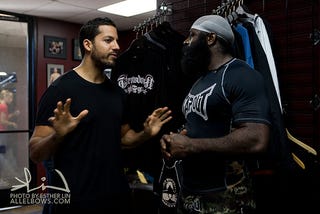 I admit: Like a true backwoods dope, I was initially mystified by David Blaine's early "magic" specials. Especially that time he turned a hobo's coffee into coins or the one where he levitated from the sidewalk. Like Michael Jackson and Fiona Apple, I believed David Blaine's magic was
real,
man. A few of years ago, I went to the Balthazar restaurant in the Lower East Side. I noticed a few playing cards stapled to the ceiling and asked the waitress what the deal was. She rolled her eyes and said, "That David Blaine guy was in here. That's a prop for one of his tricks." Blasphemy! Well, Mr. staples-cards-to-the-ceiling is in the middle of filming his latest
horseshit special
where he lights himself on fire hanging 60 stories upside down above a cobra pit for a month or something where he will reveal another trick featuring big-punching extraordinaire Kimbo Slice. Reportedly, Blaine takes a gut punch from Kimbo and Fanhouse's football scribe and resident MMA freak
Michael David Smith
has the details (via
Fightlinker
):
The rather physically fit Blaine claims he chose Kimbo because the fighter is one of the few people he fears. From my observation, it does not seem as if the magician is intimidated in conversation. But faced with Kimbo's clenched fist before him, Blaine does look visibly nervous. He asks his audience of gym employees and Kimbo's entourage, "Is this stupid?" Everyone grinned widely back. I won't spoil the fun but there's no illusion involved to this bit. David Blaine simply stands in the middle of the cage, lifts up his shirt to prove he's not hiding any protective material, and asks Kimbo to punch him. And after? Kimbo is wowed by David Blaine's resistance to his gut shot. Kimbo's manager jokingly asks, "Hey, is this going to make Kimbo look weak?" I don't think so. And I hope after this, Blaine checks in with a doctor.
Kimbo Slice Punches David Blaine In The Gut
[Fanhouse] PHOTO:
Fightlinker's Flickr