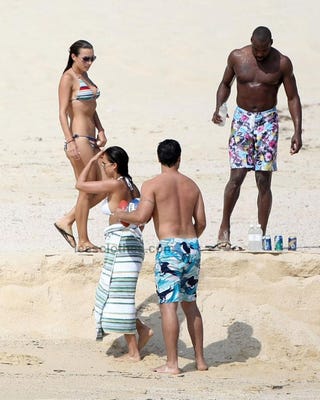 So, is
Baron Davis' Jenny Craig diet working?
You be the judge. Perhaps Jessica Alba can dispense weight-loss tips (she had a baby in June). Here they are cavorting last week in Cabo — Jessica's in the towel — as Davis prepares for the NBA preseason which begins Oct. 5 against the Hornets. This photo (and the ones following the jump) are my way of bidding adieu to Miss Alba, who will no longer be
gracing courtside at Golden State Warriors games
now that her pal Baron is a Clipper. Goodbye, sweet Jessica. Goodbye.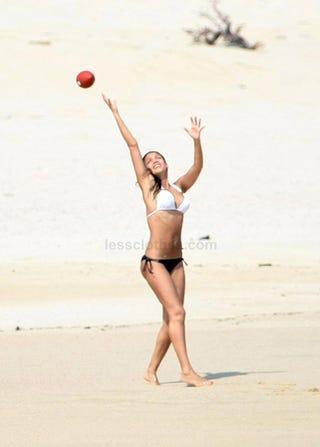 Alba and Davis are friends because of
Alba's husband, Cash Warren
, who played basketball with Davis at Crossroads High School in Los Angeles. That's why she's turned up at various Warriors games over the past two seasons, and why I'm never likely to see her again around my Bay Area stomping grounds due to Davis signing a 5-year, $65 million dollar deal with the Clippers this past July.
Now I have to settle for Penny Marshall?
Thanks a lot Chris Mullin, you twit. Thanks to the folks at the wonderfully-titled blog Less Clothes for the photos,
more of which can be found here
.
World Exclusive — Jessica Alba
[Less Clothes]
NBA Star Baron Davis: I'm On Jenny Craig!
[People]