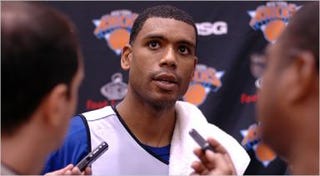 It seems like only yesterday that the New York Knicks were paying Allan Houston $20 million a year to
not
play for them. In fact,
it was as recently as the 2006-07 season
, during which Houston - who had retired in 2005 because of a arthritic left knee - was the second highest paid player in the league ($20.7 million) behind Kevin Garnett ($21 million). Of course, as Stephon Marbury has proven many times over, sometimes it's
worse
to pay somebody $20 mil and actually let them play. But that's another story altogether. The point is,
Houston signed yet another contract with the Knicks
on Thursday and will attempt a comeback with the team that made filthy rich.You might not remember this, but Houston - who's 37 years
young
, thank you very much - tried a comeback with the Knicks last year too. However, he didn't join the team until 10 days into training camp due to the birth of a child, and the comeback ended six minutes into one exhibition game.
But Knicks president Donnie Walsh says things are, like, totally different this time
. "In that case, he hadn't worked out that much. He just came in and started playing. Now, he feels like he's in better position to go out and play. I accept that." If you say so, Donnie. Walsh didn't comment as to whether the team doctors had invented a cure for "arthritic knee," and I don't know about you, but I have "limited confidence" in Houston's ability to keep pace in coach Mike D'Antoni's helter-skelter offense when a crucial leg joint is chock-full of chronic, painful inflammation. But on the bright side, D'Antoni-coached teams don't have to play defense, so maybe that'll help. I mean, it worked for Grant Hill last year, right?
Rumor has it
that Houston signed for the league minimum salary of $1.26 million for a player of 10 or more years of experience. Which, even if all he does is hand out Gatorade during timeouts, is a pretty sweet bargain when compared to paying him tens of millions to sit at home playing online Scrabble.
Houston plans to wear number 14 in honor of his father
, Wade, one of the first African-American basketball players at the University of Louisville.