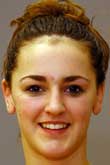 And now for some lesbian lawsuit news: Jennifer Colli, a former point guard for the Lady Mustangs is suing her former team because she feels like she received unfair treatment from her coach due to her relationship with a teammate. Colli says she was aggrieved by "inappropriate questions and comments" regarding her sex life from her coach Rhonda Rompola. Now, Colli's suing the school for $2 million and $450, 000 in attorney's fees over the perceived slight. The origins of the lawsuit come from an initial team meeting Colli attended as a freshman, where she says Rampola spent the bulk of the time talking about how much she "disapproved" of intra-squad coital relations and very little about basketball. Coach Rompola is dodging direct questions about the allegations but issued this statement:
"It is regrettable that the plaintiffs in this lawsuit are attempting to try their case in the public arena through the media. I will not respond to their unfounded allegations and look forward to presenting the facts through the proper venue in court."
I'd say that's a yes. Colli says that plenty of the Lady Mustangs were saddling up to each other (coaches, too!) , but she feels that Rompola's "disapproval" of lady love in her program made it an uncomfortable situation for her. Right now, the school is waiting for its day in court and it says it has plenty of material to defend against Colli's ridiculous claims. Colli's basketball career is over thanks to SMU and now she's just going to focus on her other career — modeling.
Ex-Player alleges SMU challenged her sex life
[Dallas Morning News]