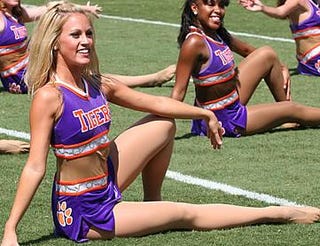 Something strange happened on the way to Death Valley this afternoon—Clemson woke up. Tommy Bowden must have decided that this would be the one ACC game where he would actually prepare his team. C.J. Spiller ripped off a 35-yard run, while the Tiger defense managed a goal-line stand to hold the Terps to a field goal to start the second quarter. Clemson leads 10-3. More updates coming, but in the meantime, here's a helping of HUGH:
Update: Clemson just stopped another Maryland drive in the red zone. What the fuck? 10-6 Clemson.
2nd Update: James Davis just busted a 38-yard TD. 17-6 Clemson. I think a pig just shit on my roof.
Summary of Ohio State & Minnesota's opening drives: OSU: 5 rushes, 75 yards and a TD. Minnesota: The Gophers leading receiver was off the field on 3rd down because he lost a shoe.—No Soap In The John Andre Ware and Dave Pasch = Gay buddies forever. —Dr Scooter19 Since Mike Paulus is starting for UNC today, someone on the U's defense has to teabag him for a sack. This must happen. —Signal 2 Noise Getting excited for Michigan State/Indiana in any sport is akin to crashing through a brick wall and finding out you didn't die, and now you'll be punished for the rest of your life. But I'm watching this one anyway. Why? Because I'm a poor Midwestern soul, that's why.—King Donut66 Another Saturday, another Pam Ward nationally televised game. Why does ESPN want viewers to kill themselves?—Dr Scooter19 Oh, and this Michigan State/Indiana game gets Pam Ward too. As Weird Al Yankovic said in UHF . . . "TERRI! I'M IN HELL! I'M IN HELL TERRI!" or something or other . . .—King Donut66 In typical South Florida fashion, there are 27 people in the stands at the Um-UNC game. ACC Football, zzzzzzzzzzzzzzzzzzzz—Mr Red Devil 4Ever Can the losing coach of Pitt-Syracuse get fired live on TV after the game? —Signal 2 Noise