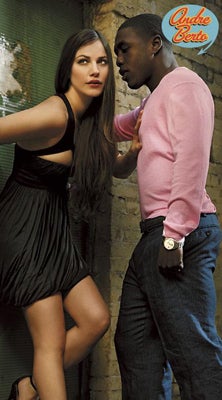 Tonight's HBO Boxing card might be headlined by Sugar Shane Mosley against the aged Matador, Ricardo Mayorga, but the real show will be the co-feature starring
my very own man-crush
, Andre Berto. The former ESPN prospect of the year is a prospect no more, now he's a dynamic welterweight with a belt and true star power. Tonight he'll need to get past former champ Steve Forbes, an intelligent veteran who will make the young star earn a victory. If Berto is to become the next young American superstar, a la Kelly Pavlik, he'll need to be convincing tonight. Of course nobody knows this better than the fighter himself, especially with a potential date with Miguel Cotto looking more and more likely. Now I don't mean to downplay the true main event, it's just that getting excited about a Mayorga fight pretty tough these days. However, as Large points out over at
The Sporting Blog
the fight could have serious consequences for Mr. Mosley, and the entire landscape of the stacked welterweight division.
Talk has been rampant about a possible Antonio Margarito/Shane Mosley fight for early 2009 which means that Sugar Shane's bout with Mayorga is suddenly loaded with consequences. Mosley is an excellent opponent for Margarito, a high-profile ex-pound-for-pound champ who still has some mustard on the fastball, as he showed in his donnybrook with Miguel Cotto last November. A Mosley/Margarito bout likely would do respectable PPV numbers and also be a hell of a fight to boot. Presuming that Margarito emerged with the W, it would continue his upwards trajectory into crossover stardom.
Well at least that gives us something to be excited about, even if it's not a sure thing as of yet. If anyone out there needed another reason to root against that clown Mayorga, this is it. A lot of fighters have been floated as possibilities to take on the downright scary Margarito, but a clash of styles against Sugar would be immensely entertaining.
Round by Round: Weekly Boxing Notes