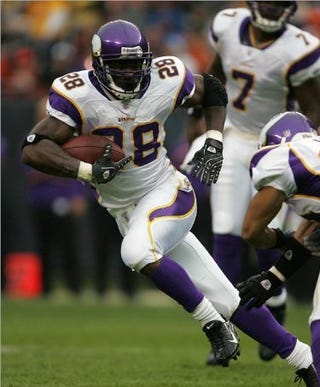 Tennessee 13, Minnesota 7.
The Titans think they're able to stop Purple Jesus. But Peterson already has 44 yards and one TD...
NY Jets 21, Arizona 0.
It's raining in this game. RAINING FAVRE! They're reviewing this last touchdown to Coles, perhaps to see if there was any illegal touching...
Green Bay 7, Tampa Bay 7.
Aaron Rodgers has already thrown one pick. JUST LIKE BRETT FAVRE!
New Orleans 7, San Francisco 3.
This is a big game in the NFC West, and that's about the nicest thing I can say about it.
Denver 7, Kansas City 6.
Larry Johnson already has 91 yards rushing. Damon Huard will be your Chiefs QB today.
Houston 10, Jacksonville 7.
Your rushing TD from Jacksonville comes from...Montell Owens?!?!
Cincinnati 3, Cleveland 3.
I hope Carson Palmer brought his GameBoy.
Carolina 7, Atlanta 6.
Jonathan Stewart has a TD for the Panthers.