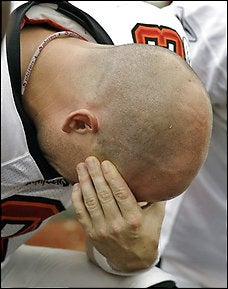 One of the most heartwarming and heartbreaking stories from yesterday's NFL news was that of Tampa Bay Buccaneers kicker Matt Bryant, who just a day after burying his 3-month-old son, Tryson, somehow summoned the strength to kick a ball through the uprights for his team. Bryant made three field goals — including the eventual game winner — and bravely spoke about his family's tragedy, even though plenty of people would have been satisfied with a no comment or a press release.
"I wanted to honor Tryson's name," Bryant said. "I didn't think it was very fair for his life to end so short. This is the best way, I believe that I could get out and honor him. I miss him. I wish he was here. But he was here with me. He helped out.... "I didn't want to have a bad game today," Bryant said. "I wanted to be focused to lift Tryson up, to put him in the spotlight. I was going to go 3-for-3 today. It didn't matter. I wasn't going to let anything screw up the day when I had the opportunity to acknowledge him again."
Here's a thought — what would have happened if Bryant missed those three field goals? Would it have been less heroic or an easy excuse for a poor performance? And would Bryant have been as willing to talk about it post-game? But was it even in Jon Gruden's best interest to use Bryant under those circumstances. Placekickers are wired differently than other NFL players and getting in the proper mindset is often what stands between success and unemployment. There was an
emergency back-up plan
in place if Bryant didn't want to kick. It's equally gutsy of Gruden to go with Bryant given those circumstances — both personally and professionally. Thankfully, it worked out.
Matt Bryant's strength goes beyond the game
[ESPN]
A Father's Heavy Heart
[Tampa Tribune]