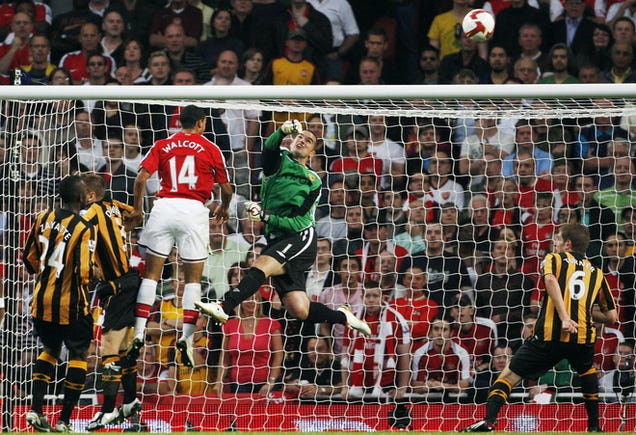 Michael Bertin writes regularly about soccer for Deadspin.
A funny thing happened on the way to the San Siro. Actually, it wasn't funny at all, but with the Special One lining up his charges against the Boys from Brazil (Pato, Kaka, Ronaldinho), Milan v. Inter seemed the likely footy fodder for the week. Until 1:23 on Saturday when I got a text message that read: "And you're losing to something called Hull." It wasn't quite "I need to talk to you about
my brother's cock
picture" territory, but for simple improbability it was easily in the same area code.First off, my buddy who sent the text watches about as much soccer as he watches gay porn, which is none. I'm guessing. I don't troll around his closets or his hard drives. How would he even know? Second, it's simply not possible for Arsenal to lose at home to a side that just won promotion to the EPL (suck it, Barclays) this season. Finally, I had flipped away from the game not seven minutes before to get up to speed on the early college football games. Arsenal had gone up 1-0 and were pounding the Tigers' box. A second was inevitable and Carolina v. Miami was getting watchable. Even with a backline that has been shakier at times than Michael J Fox after a weekend meth bender, there is no way the Gunners could have conceded two goals in that time. To Hull. At home. Shit, the last time Hull had beaten Arsenal (1915) the world didn't have pop-up toasters, traffic lights, or Communists. Oops. Fuck. It was no fluke either. Almunia had no chance against Geovanni's strike from 30 (uniform notwithstanding that thing was awesome). And more shit defending on a set piece, a staple of the Gunners' San Andreas backline this season, meant a 2-1 loss and six points dropped between Hull and Fulham, two teams targeted for likely relegation before the season kicked. On the positive side, there's no need to worry about a collapse in March. That's probably out of the way in September (Is this what it's like to be a Mets fan? God, who would choose this?). And I've probably placed out of Purgatory after watching the last 20 minutes of the match. That was maybe the biggest disaster I've ever seen that didn't star George Kennedy. Judging by his gestures, I'm pretty sure Arsene Wenger feels the same way. Let me translate his body language: "It's so beautiful, why doesn't it score?" When Arsenal is clicking, the way they play, it really does look like art, like Coltrane and Miró on grass. But like art, it is also practically useless. Almost anyway. I suppose you could set fire to the Mona Lisa in a pinch if you needed a couple minutes of warmth. The fact is there is no correlation between aesthetics and goals. And that's the problem with being an Arsenal fan. You know that's true, but you still can't bring yourself to believe it. It's so pretty to look at—and it usually creates plenty of chances—it should produce more goals. It's doesn't but it should. The manager thinks it too, which is why he often looks he's the oldest person yet to graduate from Special Ed. The worst part is that it works just enough to convince you that you're right to be delusional. Arsenal rolled out a squad of kids midweek (average age 19, oldest player 23) in a Carling Cup match against Sheffield United. They hung a six spot on them. It could have been 10. Why wouldn't they do the same to Hull? How didn't they do the same to Hull? Arsenal could have been easily up 2-0 or better at the break. They weren't and they lost to a team managed by Eddie Izzard out of drag. And for the next 24 hours I felt like I had been kicked in the shin, nuts, face, and kidneys all at the same time (probably accentuated by the fact that almost every sports team I pull for lost this weekend... except USC, they can't lose enough) The sad fact is, though, that I'll be back next week, even though I was already plenty worried about going to Sunderland before Saturday's mini-catastrophe, and I'll still believe in Wenger because, well, because I'm a big pussy, which is why I work at Initech in the first place. All the one touch passes through the midfield, all the movement into empty space your opponent didn't even know was there, all that beauty is effectively useless if you don't score. So, just a tip for the team when heading to the Stadium of Light next weekend: Somebody just fucking shoot the ball. Please. Oh, and Milan beat Inter 1-0 on a first half header from Ronaldinho, which is only slightly more likely than Arsenal losing at home to Hull. Yet, both happened.
Arsene Wenger felt physically sick after watching Arsenal beaten by Hull
[Telegraph.co.uk]
Milan 1-0 Inter
[Goal.com]