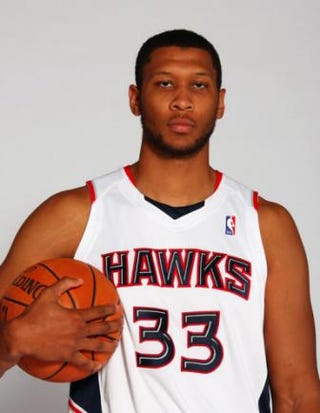 NBA training camps have begun; the season is rapidly approaching. Can you dig it? I knew that you could. And so we begin our previews: 30 of them in 30 days. Let's begin with everyone's secret favorite: The Atlanta Hawks.
When last we saw them:
Finished 37-45, third in the Southeast Division and eighth overall in the East. Lost in seven games in the first round to the eventual NBA champions, the Boston Celtics.
Key Arrivals:
Mo Evans, Othello Hunter, Randolph Morris
Key Departures:
Josh Childress
The Good:
They retained the services of Josh Smith, their second leading scorer, after Smith signed a $58 million offer sheet to play with the Memphis Grizzlies. They have a strong starting five of Mike Bibby, Joe Johnson, Marvin Williams, Smith and Al Horford. The acquisitions of Hunter and Morris will improve their frontcourt depth. Bibby will have the benefit of a full training camp, which should lead to improved chemistry with his teammates, especially backcourt partner Joe Johnson. They're a good fast break team that likes to crash the offensive glass. Confidence is high after the way they pushed the Celtics to the limit in the first round of last year's playoffs.
The Bad:
Josh Childress flew the coup in order to hoop it up in Greece. They tend to be inconsistent on the offensive end because they rely so heavily on streaky jump shooting (Johnson, their leading scorer, was 43 percent from the field in 2007-08). Weak three-point shooting. At times, they don't seem to give their full effort, especially on the road, where they were 12-29 last season. They might be thinking a little too highly of themselves right now, due to their playoff performance against the Celtics (who clearly weren't at their best in the early rounds). The
EA NBA Live simulated season
shows them finishing with only 36 wins and out of the playoffs.
Fun Facts:
Dominique Wilkins is the new Hawks TV analyst on FSN South and SportsSouth, joining play-by-play announcer Bob Rathbun. Former NBA sniper Mark Price has joined the team as a shooting consultant. Last season, Josh Smith joined Hall of Fame Centers Hakeem Olajuwon, David Robinson, Patrick Ewing and Kareem Abdul-Jabbar as the only players in NBA history to average 17 PPG, 8 RPG, 1.5 SPT and 2.5 BPG in a single season. What's more, Smith was younger than any of the four when they did it. The Hawks will appear on national television only once thsi season, on December 17th against the Celtics.
Historical footnote:
During the 1986-87 season, local Atlanta band Tom Gross and the Varsity released a 45 rpm record for the Hawks, titled "Nothing Can Stop Us, We're Atlanta's Air Force." And here's the video: