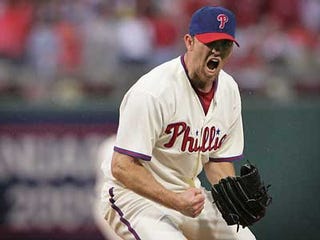 One jumbo hot dog. One cheeseburger. One heat lamp
Schmitter.
Seven beers. 1-0. The only thing that was pretty about it was Cole Hamels who did everything
he was supposed to do
as the reluctant ace of the staff. Other than that — thank you Mike Cameron. I guess his glove is also no longer using performance enhancers. Tomorrow it gets ugly as the suddenly jittery Brett Myers faces off against C. C. and his chubby bionic arm. There is a surprising amount of confidence in Philadelphia, even though the Phils, for the most part, played like dogshit today. The bats were limp and Brad Lidge suddenly looks as vulnerable as
Leitch said he would.
But a win is a win is a win, and if this is what it takes to get out of the sissy round, then it's fine by me.
Dodgers/Cubs
are starting and now I have to go evacuate the Schmitter before another unfortunate incident ruins a second pair of perfectly good Gap underwear. Enjoy the rest of your evening and I'll be back bleary-eyed and bushy-faced tomorrow morning. Thank you for your continued support of Deadspin.