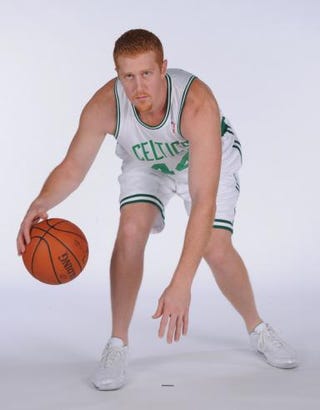 NBA training camps have begun; the season is rapidly approaching. Can you dig it? I knew that you could. And so we continue our previews: 30 of them in 30 days. Up next is a team you might have heard of in the news: The Boston Celtics.
When last we saw them:
Finished 66-16, best record in the league, and defeated the Los Angeles Lakers in the NBA Finals to win the franchise's 17th NBA title.
Key Arrivals:
Darius Miles, Patrick O'Bryant, rookie J.R. Giddens
Key Departures:
James Posey, P.J. Brown, Scott Pollard (snicker)
The Good:
Boston's
Big Three
Menage a Trois have all returned and appear healthy. The starting five remained intact. The team - which was almost entirely remade in the summer of '07 - has been together for a full season and now have that all-important championship experience. KG's intensity will continue to push the team. Tom Thibodeaux is still guiding their league-best defense. Their talented youngsters (Leon Powe, Rajon Rondo, Kendrick Perkins, and Glen "Big Baby" Davis) should continue to develop.
The Bad:
James Posey is gone, lost to the New Orleans Hornets, and the Celtics will be hard-pressed to replace his tenacious "arms-and-elbows" perimeter defense and clutch three-point shooting. Kendrick Perkins is still recovering from the arthroscopic surgery he had on his left shoulder last July. Paul Pierce has been suffering from laryngitis for the last month, oddly enough. Darius Miles hasn't played in an actual NBA game since 2006. Ray Allen (33), Kevin Garnett (32) and Paul Pierce (31) aren't getting any younger...and Allen always seems like an injury waiting to happen. There seems to be some question as to whether they'll have the same level of desire after winning the big one last year (the dreaded "Championship Hangover"). Oh, and everybody comes out gunning for the champs.
Fun Facts:
The
EA NBA Live 09 simulated season
predicts they'll finish with only 44 wins and fall in the Eastern Conference Finals to the Miami Heat. Ray Allen is a 12 handicap golfer and has a bowling average over 150. Red Auerbach's brother Zangwell designed the
Celtic Leprechaun logo
. Former Celtic Chuck Connors - better known as TV's "The Rifleman" - was the first NBA player to break a backboard (he did it during warmups on November 5, 1946).
Historical footnote:
The
Hawks
aren't the only team that had their own music video in the late 80s. Here's a totally rad rap/song/whatever from the last time the Celtics tried to repeat as NBA champions...