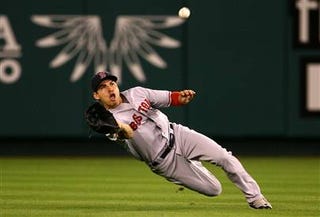 While the details of Donnie Moore's fateful pitch and tragic suicide have been somewhat overblown over the years, the fact remains that the Angels still seem to have no idea how to beat the Red Sox in the playoffs since that fateful day in 1986. After having won eight of the nine regular-season games between the teams this year, Los Angeles lost to Boston, 4-1, behind Jason Bay's two-run homer in Wednesday's Game One of the ALDS. That's 10 straight playoff wins for the Red Sox over the Angels, dating to when Boston beat California in extra innings in Game 5 of the '86 ALCS, thanks in part to Dave Henderson's ninth-inning homer off of Moore. Aggregate score in those 10 games: 73-28. Twenty-two years ago, the Angels held a 3-1 series lead and were ahead 5-4 with two out in the top of the ninth of Game 5 at the Big A. Closer Moore was summoned to pitch to Henderson, who hit a two-run homer to left, with Boston going on to win the game in extra innings. The series returned to Boston and the Sox won both to advance to the World Series. Moore, inconsolable following the game, subsequently committed suicide in 1989, although the reasons for that
have less to do with baseball than many people imagine.
Still, a curse is a curse (see: Cubs, Chicago), and this one seems to be flourishing.
Bay's two-out, two-run homer off John Lackey
in the sixth was the big blow; Bay's first post-season homer, which really didn't have to be said seeing that he previously played for the Pirates. That super terrific happy catch pictured above is by Jacoby Ellsbury, who snared Mark Teixeira's sinking fly to center in the eighth.
Wizard Cat gives this play: Five wands
. Of course, no sooner had Bay hit the go-ahead homer than
Chip Caray, the TBS lead announcer, said "Manny who?"
Seriously, Chip? The Red Sox tied a major league record for consecutive postseason wins over the same opponent, a mark Oakland set against the Red Sox from 1988-03. The fun continues Friday night in Game 2, with Ervin Santana going for Los Angeles against Boston's Daisuke Matsuzaka.
Red Sox Beat Angels In Game 1
[Los Angeles Times]