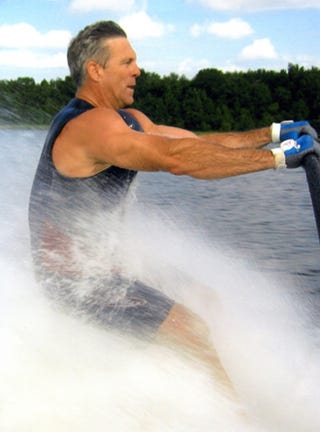 So The Big Ten Network has this reality show about the Illinois football team called
"The Journey."
Even though this is a "Hard Knocks" type series — albeit one with decidedly worse production values and dramatically more nondescript players — about my alma mater's football team, I have never seen this show, because I made the foolish decision to live in the sleepy outpost of New York City, where it is unavailable. God I hate The Big Ten Network. ANYWAY. I do check out
the Illinois page on BigTenNetwork.com
, which occasionally gives me updates on the team and the show. Which is why I was able to catch this:
Click to view
Fast-forward to the 9:20 mark, and you will see ...
Ron Zook water skiing
. Go watch it. See his imposing body armor. Watch his air wave slowly through the breeze. Stand in awe of the guns, man. He is Zook. ZOOOOOOOOOK. The man truly does piss intensity.