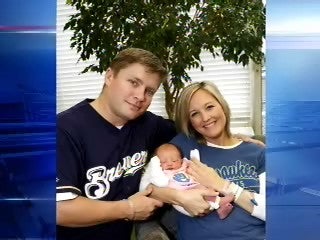 Award for most hardcore baseball fan, NL Central, goes to Niki O'Connor of Milwaukee. Not only did she walk to Miller Park while nine months pregnant to see the Brewers play the Cubs on the last day of the regular season, but she went into labor during the game, and refused to leave. The fun began when Ryan Braun hit a two-run homer in the eighth to give the Brewers a 3-1 lead.
"I'm jumping up and down and celebrating, and when everything calmed down, I'm like, 'I think I peed my pants!'" Niki laughed. It was actually her water breaking, but this Brewers' fan and her husband Brian didn't leave the park. They waited to see the outcome of the Mets' game. Addison was born the next day at the hospital.
The win, along with a Mets loss that day in New York, propelled the Brewers into the playoffs. The family
watched Game One of the NLDS
with the Phillies from home, where the baby presumably was not amused about being 0-1 lifetime in the playoffs. The O'Connors named the baby Addison, apparently not aware of the street address of Wrigley Field, home of the team they beat on Sunday.
Here's some video
of these two
totally insane
dedicated Brewers fans.
Woman Gives Birth After Cheering Braun's Home Run
[TMJ4-Milwaukee]
Playoff Baby Watches First Brewers Game
[MSNBC]