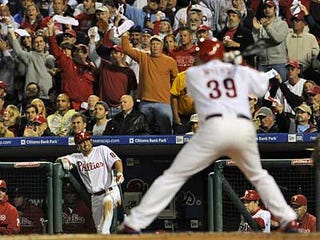 So, it's funny, the day I find out I'm (officially) moving away from Philadelphia, back to New York, a day when I'm dutifully counting off personal items and crappy furniture, examining dying plants, and doing all that stuff you do when life doesn't turn out the way it's supposed to, becomes one of my most memorable days as a sports fan. I was going to hop on a train again — it feels like I've spent half my life on a train for the past two months — content to watch the updates on the cellphone and just get out of this box-filled apartment for another four days, two days, one week whatever. But then 5:14 p.m. suddenly became 6:09 p.m,. as it tends to do sometimes when you're paying too much attention to things you can't control, and the first pitch was thrown, and, shit, well, you can't leave once the first pitch is thrown. Brett Myers has been awful lately and when he loaded the bases in the first inning, walked in the first run, it appeared that awfulness would continue and the Phillies would have to face giant-assed C.C. potentially down three or four runs. Didn't happen. Still, the way the chubby dude's been pitching one run could be more than enough to finish the job, tie the series, shift the momentum, all that. Then, in the second inning, it changed; Myers had
That At Bat,
which was truly a reminder of why you love your team, why you love your city, and that sometimes,
good things happen when you least expect it
and when you need them the most. Philly Inquirer columnist Bob Ford did a pretty good piece about Myer's Walk and you can read that
here,
but, so far, the email I received from Jesse Silverman (one he originally drunk-emailed to Ford after he read his column, no less) probably best captures everything you're supposed to capture about last night's game and the reasons why we continue to hang on to teams even though they're destined to break our hearts. So, sorry Brewers fans, sorry Cubs fans and, yeah, sorry Mets fans, but you know, we're all in this together for moments like this. Enjoy. *******
Bob, I am 32 years old. Old enough to have been alive for the '83 Sixers and Philadelphia's last championship, but young enough to not remember a single one of the fo, fo, fo. I attended a 15-14 World Series loss. I attended 4 playoff games as the '01 Sixers made their way to the NBA Finals. I was there for an NFC Championship Game loss to the Panters as well as an NFC Championship Game win against the Falcons. I was there for Milwood's no hitter against the Giants. I was there for, well you get the point. I've been to countless Philadelphia sporting events. More often than not they've ended in heartbreak. Tonight I attended Game Two of the NLDS. Needless to say things were different. Tonight I felt like I was at Yankee Stadium as the Bronx faithful unnerved yet another not quite ready for primetime pitcher. Tonight I felt like I was a NY Giants fan feverishly praying that Scott Norwood would be wide right. And that prayer was answered. Tonight I was a Chicago Bulls fan praying that Michael Jordan would not get whistled for a push off against Bryon Russell. And the whistle was silent. Tonight I was part of a crowd which actually affected the outcome of a game. Myers at-bat started off as nothing more than a joke. He stepped into the box much as he did in a pinch hitting role where he was instructed to stand at the plate much like a windmill. Wave your arms, but do not stray from your position. Don't you dare swing. But then a strange thing happened. Bit by bit Myers put an at-bat together. I deliriously cheered a broken bat at one point. I gleefully recited lines from Rocky 3, "You hurt him! You see! He's just a man! He's not a machine! He's a man!" as Myers singlehandedly tore down the Oz-like curtain from in front of Sabathia. With each pitch the crowd sensed momentum changing. Myers unknowingly, unwittingly, unsuspectingly, unbelievably was slaying the dragon. Strike (swinging), Strike (swinging), Ball, Foul, Ball, Foul, Ball, Foul, Ball, Walk. In the rightfield bleachers, where I was sitting, we serenaded Sabathia with chants of "C.C., C.C., C,C,...". With each pitch the intensity of the chanting grew. The louder we chanted the more wild C.C. delivered. No matter that he was pitching on short rest for the umpteenth time in the last three weeks. We had him rattled. Four balls to Rollins and it was unmistakable. The ultimate trade deadline acquisition had been derailed. Shane Victorino strolled to the plate and struck the death blow on a 1-2 pitch. We caused that. We forced C.C. to make that mistake. We willed Shane to that homerun. I've never been a part of a crowd like that. We affected - no we willed that result. Emperor Sabathia had no clothes. The Phillies faithful completely disrobed him.