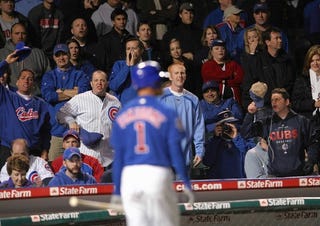 Well, blessing the dugout didn't seem to help, so the Cubs turned to a sleep doctor for Game 2.
This is true
. The doctor suggested that the Cubs spend the night in Chicago on Thursday instead of taking a late flight to Los Angeles for Game 3, so that the team could get its proper rest. Problem was, they started on that a little early, dozing fitfully through a 10-3 loss to the Dodgers in which each Chicago infielder made an error. Meanwhile, Alyssa Milano's dog, watching at home on TV,
couldn't hang past the second inning
. At least someone benefited from the doctor's advice. Down 0-2 in the best-of-five struggle, Cubs fans are in a surly mood. They've all but declared this one over, as can be seen
all over the message boards on Cubs blogs this morning
. • Somebody hire Al Davis to figure out a way that K-Fuk can be fired for cause. —
sitrick2
• Blech. —
BellwetherMeltdown
• If this is the best of what's to come, I don't want to know what the worst is. —
Clark Kellogg
• Isn't milton bradley a free agent this year? —
sitrick2
• You know that scene in scanners before the guys head blows up? Yeah. That's about where I am. —
JDools
Hmm,
I guess we won't be needing these.
Meanwhile,
champagne is on ice in Mannywood
, as the Dodgers look to close it out in Chavez Ravine on Saturday at 7 p.m., PST. On Thursday Ramirez's 26th career post-season homer and Russell Martin's three-run double were the big hits, as LA chased Carlos Zambrano. "It wasn't good baseball. In fact, the last two days, that's probably been the two worst games we've played all year," a frustrated Lou Piniella said. "It wasn't fun to watch, I'll tell you that." The Cubs manager then gently laid his head on his desk and closed his eyes, as members of the press tiptoed out, careful not to wake him.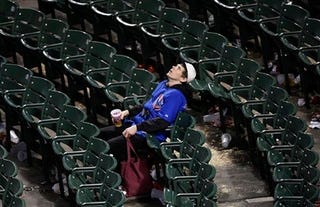 Cubs Turn To Sleep Doctor Too
[Daily Press]
Dodgers Roll Again, Push Cubs To The Brink
[NBCSports]