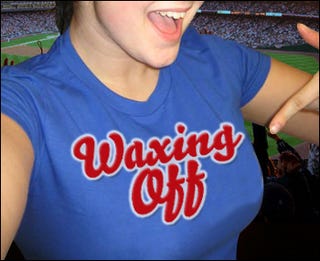 Once upon a time, a site called The Black Table had a regular feature entitled Waxing Off, in which women gathered in an online roundtable to discuss issues of the day, and also to make fun of Will Leitch's shoes. And so we got to thinking: With so many great female sports bloggers out there, why not import the idea here? It's just crazy enough to work. So behold: The latest edition of Deadspin's Waxing Off. This week, seven writers pen short pieces on the national pastime; video games baseball. The playoffs are here! The excitement is palpable, except in New York, and soon, Chicago. We asked our writers to give their impressions on the playoffs, tell us who they're rooting for, who they hate, and what pickup lines work best at the Stadium Club. One of our ladies is even a descendant of a famous major league slugger (not Barry Bonds). Let's play seven! By the way, if you'd like to be part of the Waxing Off writing staff, email myself at Rick@Deadspin.com, or Mr. Daulerio at AJD@Deadspin.com.
Metschick
: What do the playoffs mean? They mean that it's time for another Mets collapse. Seems like it's turning into a yearly event. I should be used to this, but it hurts all over again, as if for the first time. I guess I only have one person to blame for this — my late husband. Sure, I caught the occasional game before we started dating. But it was usually just background noise, on as I read my book. After we started dating, I noticed he'd come over to visit me, and end up engrossed in the game, chatting with my dad. Not to be ignored, I started paying attention, asking questions. Soon, I was devouring book after book about baseball. That's why I was drawn to it. It's a not terribly complicated game, and its play is eloquent, poetic almost. Few things to me are as beautiful as a double play (preferably turned by my team) or a walk-off victory. I love the game because an unknown can come out of nowhere and capture our hearts. I love the game because attractive, fit men (mostly) wear uniforms that make them look good. I love the game because it knocks down Goliaths. I love the game because during any given game, David can win. I love the game because, when we're discussing the game, it's one of the rare moments my dad and I are equals. I love the game because of the emotions felt — at any given moment, I can click on over to Faith and Fear in Flushing and have Greg and Jason more cogently write out exactly what I'm feeling. Mostly I love the game because it was shared with someone I loved. I hope to carry that forward with my own little one now.
Metschick is recovering from the Mets' latest heartbreaker in Kaua'i. She'll be back to Ladies... next week.
————-
Melanie Greenberg:
For me, it was never a matter of choice. My grandfather was Hank Greenberg, so cultivating an interest in baseball was necessary in order to avoid bringing shame upon my family. Or my people, for that matter. But it wasn't a challenge. I grew up, of course, in a household completely obsessed. There were trips to Florida for spring training, epic drives to the ballpark, batting practice before school. I can't remember a time when my existence didn't center around the game. While I'm not exclusively a baseball fan, my interest in other sports is primarily a crutch to get me through the offseason. And, as a Yankees fan, the offseason is going to be longer than usual this year. Yeah, I know the season isn't technically over, but, for me, October isn't the same without the Bombers. (Hell, I would have even settled for the Mets.) But October ball is October ball, and as long as it doesn't end up — oh, I don't know — a Brewers-Red Sox World Series, I'll stay interested. I'm a Torre loyalist, so when it comes to the NL, I have to go with Big Blue. Warts and all. (And by warts, I mean Manny.) The Cubs? Well, they confuse me. Part of me loves the lovable losers because, well, they're lovable. Another part of me thinks that they're lovable to the point that it makes you feel gross. I mean, I get that they're in the Midwest and get carried away with being adorable. This is baseball, though. Not a cute contest. That said, if it came down to it, I would back the LL's in the LCS. I have always had a soft sport in my heart for Soriano. Not to mention good old Lou Piniella. But my real Chicago loyalty lies with the ChiSox. Ozzie G. and his special brand of crazy, the compulsively likable Griffey Jr. and Nick Swisher, that power lineup. Not to mention that, unlike the lovable losers, the Sox have found a way to exist in the Midwest without being light and fluffy. For that reason alone, they'd get my support if the impossible happened — Crosstown Classic. But I wouldn't hold your breath. Not unless you're holding it for a Freeway Series.
Melanie Greenberg is a freelance writer in New York. If you want to read her thoughts on sports, the Bombers, and why Brett Favre should change either the spelling or pronunciation of his last name, go to yousuckcococrisp.blogspot.com.
————-
The Steezer:
The baseball playoffs are here! Hooray? I'm not by any stretch of the imagination a "baseball fan." I get the gist of the game, but I can't tell you anything about strategy, what teams are in the AL or NL, or (since I live in DC) even what a good baseball team looks like. First, the season is like 13 months long, and teams can lose like 60 games and still make the playoffs. In a real sport (college football) you can't lose one game and expect to have the same head coach next year. Second, there are like 45 rounds in the draft. No lie, me AND my dog were both drafted by the Cubs two rounds before a guy I went to high school with was picked up by the Nationals (and he is a presently starting in the Nats outfield). And finally, despite the fact that they play 400 games a year, each of those games is about seven hours long, and generally features a lower score than Sarah Palin's IQ. So to summarize, baseball in the regular season is pretty much a waste of time. (Okay, caveat to that…unless you're watching it in person, of course. Then it's a glorious drunk affair in the blazing sun where eating an amalgamation of meat often referred to as a "hot dog" is not only accepted but encouraged. But I digress.) And then October comes. Finally it means something. Baseball has a leg up on most other playoff sports because, even though the regular season lasts two years, the playoffs move fast and furiously. Generally games are shown on Fox meaning no good TV is pre-empted, and games shown on TBS mean you get to see Frank TV commercials every five minutes! MAN, does that guy know how to impersonate Donald Trump or what. Word! I hate baseball, but in October, I'm all over it. Cheering for the underdog! Cheering for the evil empire! Just cheering for offense! It's a magical time of year. I actually will go so far as to say that October is the greatest month of the year for sports. And most importantly…baseball players wear tight pants that make their butts look good, and protective cups that make their crotches look big. I fully support both of those.
The Steezer is a Texas Longhorn fan living in Washington, D.C. who wonders why the candidates aren't talking about the most dire issue facing America: Why no one watches "30 Rock"
————-
Claire Zulkey:
If you ask any Chicago White Sox fan whether she expected the team would appear in the playoffs and she says absolutely, she's lying. We hoped they'd be here. We thought they COULD do it. But we were ready for the worst, so we feel as thankful and lucky as we feel deserving to appear in the postseason. The combination of just being happy to be here and the relaxation that comes from knowing that we have won a World Series within the last century (which is not a dig at Cubs fans — it could have very well happened to us) makes this playoff run a little extra fun. It's like we took a random route on the way home and accidentally came upon an amusement park. Whee! Why the hell not? "If we don't win this year, I don't know when we'll ever win," is what my Dad said in 2005 when the Sox were on the verge of blowing their season. This postseason? I'm feeling a little more relaxed, not quite as ready to rip my hair out. Maybe I'm alone however in my mellowness, but I've also got other things on my mind — I'm getting married a week from Saturday. It's quite possible that the Sox will be out of the playoffs by then. But that didn't stop my Dad from calling me at work two weeks ago to share his prognostications on if and when the Sox would be playing that day (it would be going on during the reception). I certainly wouldn't mind the distraction, as long as somebody kept the bride up to speed on the score. The real reason I want the Sox to be in contention as of October 11 though is that of all the songs I requested from the band, I want to hear the Sox's unofficial theme, "Kiss Him Goodbye," and be excited about RIGHT NOW, not reminiscing about the previous season. My mom hates the idea of us hollering "NA NA NA NA HEY HEY HEY GOODBYE" at my wedding reception but I have a feeling she probably would be singing right along with the rest of us if we're still in it (who knew?) to win it. ————-
Meghan:
Every March as baseball season approaches I start getting excited. Opening Day is a holiday. (It also marks the start of outdoor drinking season.) I look forward watching and caring about baseball all summer and beyond September. But then I remember that I am a Baltimore Orioles fan. Baseball reels me in during the April and May and by mid-June I'm usually pretty smitten. The weather, the ballpark atmosphere and the enthusiasm for the game make it so easy to overlook any major flaws. By August, the honeymoon is over and the flaws are more glaring. Even though they've pretty much called it quits by mid-September, I feel like I'm cheating on my team by cheering for someone else in the playoffs. It's like hooking up with your ex's friend when you know you'll get back together soon. During the off season I'll forgive the flaws and come back. That doesn't stop me from flirting. Since I now live in Philadelphia, the Phillies are the logical rebound. They're even in a different league. But as attractive as they are, they have a solid reputation as heartbreakers. I'm not ready to get hurt again. The other team I'm eyeing is the Rays. Yeah, they're in the same division as the O's, but they're not really rivals. Next year the Rays will be another bully I can't believed I crushed on, but right now I'm partially blinded my pain and partially impressed by the Rays surprising ascent from neighborly cellar dweller to AL East champ. Maybe they could fulfill me the way my team hasn't. But I'm just checking them out, I can't really follow through because my heart still belongs to the Orioles. So as baseball playoffs start, I turn my attention to my other love interests, the Ravens and the Terps. I keep hoping that next year the O's will make our relationship stronger with a winning season or maybe even a playoff run to build on. But until then, my love affair with baseball will have to remain a short, albeit yearly, summer fling.
Meghan is a third year law student from Baltimore currently living in Philadelphia. To avoid studying and looking for a job she spends too much time obsessing and blogging about Baltimore area sports at http://girlsdontknowsports.blogspot.com
————-
Tara Crawford:
I've been a baseball fan since my dad took me to my first game when I was 12 years old. I had always rooted for the New York Mets because all my friends did, but that one trip to the ballpark is what really made me a fan. It was just me and my dad, and it's my favorite memory of him (so far). My love of the game started right there – I didn't even care that they lost. Because that day I saw Kevin Elster drive a home run out to center field, Dwight Gooden pitch a monster game, and two drunk fans behind us get kicked out for mooning the crowd. A typical day at Shea in the 80s. Now I look forward to seeing David Wright hit home runs over the Citi Field wall and cheering along with Cowbell Man at games I attend with my husband. But it all started back in 1989 with my dad. It was rough watching my old favorite Mike Piazza close the doors on Shea for the last time. I wish my Mets could have sent Shea Stadium out with a World Series win. It sucks pretty bad watching your team make it to first place only to fritter it away in September – twice. But I'll still be there when April rolls around, giddy with excitement for another long summer yelling at my television for three hours of every night. I guess that makes me a baseball chick. I get excited about extra innings. I believe pink team jerseys are an abomination (wear your team colors or don't bother!). I think no hot dog tastes better than a ballpark hot dog, and stadium food never counts toward a diet. And I'm pretty sure that when I sit on my couch and tell Carlos Delgado I'll never make "Just For Men" cracks about his greying beard ever again if he'll just drive in a run or two, that he really can hear me. OK, that last part probably just makes me crazy. But you get my point. So who am I rooting for now that my Mets bit the big one? It's a tough call. As much as I'd love to see the Cubs finally get the World Series win that's eluded them for so long, it would be pretty delicious to see Joe Torre tell the Steinbrenner Empire where to stick it by taking home the trophy on a new team with a former Red Sox player. I guess it's a tossup. Mostly I just want TBS to take down that huge post-season billboard with David Wright on it – it wounds my soul.
Tara Crawford is an aspiring writer currently working as a print production artist. She is a die-hard New York Mets fan currently in mourning. When not rooting on her team she can be found whittling away her hours online and/or indulging mildly manic obsessions with Anderson Cooper, Tim Gunn, and "Lost;" or posting to her personal blog at: http://sassette726.livejournal.com
————-
Cari Gervin:
This is not our year. Look, I know we're in the playoffs, and I know I should be all excited, and hell, I'm not saying that I won't watch every single game wearing my lucky hat (until the hat inevitably proves unlucky, and I throw it across the room), but I'm telling you, this is not our year. Of course, I say that every year. After 2003, I knew there was no way 2004 was our year. After Game 3 of the ALCS in 2004, I was really glad I hadn't gotten my hopes up like I had in 2003. I knew we were going to lose again. When we didn't — when after what seemed like the longest, most intense games ever we managed to come back and win, and win, and win, and win — it was just that much sweeter, even if one of my favorite players had been traded in a last-minute blockbuster deadline. In 2005, I knew we had no chance to do it again, and we didn't. And last year, yeah, I watched the playoffs, but I knew we were going to lose to Cleveland. When we didn't, I stayed up until 4 a.m. playing "Tessie" on repeat and booked a plane ticket for Boston the next day so I could watch the World Series in the bars on Lansdowne Street. But I'm sorry, this really isn't our year, and not just because Jason Bay, sir, is no Manny Ramirez. There are too many injuries, and too many expectations. Hell, John McCain is rooting for us. We are not the Yankees, goddammit, whatever people critical (or jealous) of our success say. We will never win back-to-back titles. I suppose I'm still not comfortable rooting for a winning team after so many years of being an underdog. I suppose I'm afraid of success (that's what my therapist says, anyway). Yet I'm firmly convinced that 2008 belongs to Tampa - or maybe that slate of ex-Idiots over in Los Angeles. This knowledge will not make the upcoming losses hurt any less. But this is not our year.
Cari Gervin is a freelance writer in the South. She blogs about her misadventures in life, love and sports fandom at unwelcomereturn.blogspot.com. She will be throwing her lucky hat against the wall sometime next week — everyone knows the Angels are still toast.