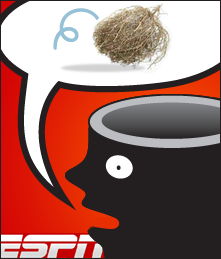 ESPN scours its message boards daily to find its cleverest, boldest, most enlightening comments, and chooses ones like this above all others ...
• "Don't see Washington surpassing Dallas in the power rankings. Redskins barely won." –
bbrennersPrevious ESPN Featured Comment of the Week, plus a Featured Deadspin Response or two ...
• "The Pac-10 Conference is ridiculously hard? Please." —
bagedhoe
• My countenance is ridiculously marred? Please. — Jokerswyld< (
dont-forget-where-you-came-from-cheese-mac
) • 6 guys singing a song about boners is redulously dumb? Please. — VivaViagra. (
Ladies love Fennis
) • The Six pack is ridiculously cold? Please.~BeerAficionado98 (
Ianny
)