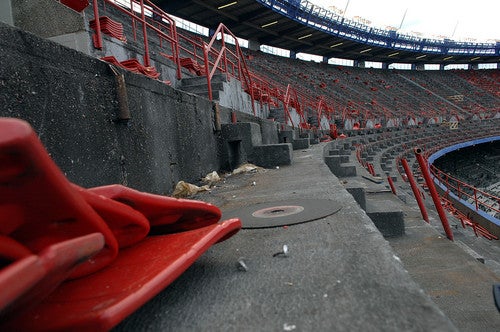 They've begun tearing down Shea Stadium, so hopefully that men's room sign you bid on at the auction will be arriving any day now. But some concerned citizens are worried that the stadium's notorious feral cat population may be left behind; they actually want the kitties relocated to the new park.
"They're part of Mets lore," said Bryan Kortis of Neighborhood Cats, a Manhattan rescue group. "So why not keep them around?" Kortis estimated the stadium may be home to 20 to 40 cats, based on Shea's size and its proximity to Flushing Bay, which makes the Willets Point section of Queens a haven for rodents. "They need cats there because they're right near the water, and if they don't have them, they're going to be overrun with rats," he said.
This seems rather unnecessary. If there's one thing I know about cats, it's this: they don't need an invitation to move in. Expect tiny hang gliders to begin landing in the new stadium by the weekend.
Click to view
Cat Lover Wants Shea Kitties Removed
[Newsday]