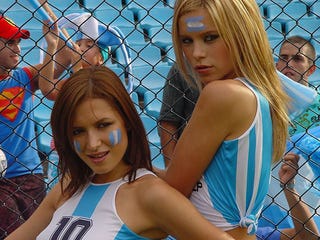 It's bright and early on Saturday morning and that means the Deadspin Pub is open for business, because even when
times are tough
people need a place to obsess over European soccer. Now you may not be able to headbutt a Gunner or crack a Magpie upside the head with a bottle of Newcastle, but you are more than welcome to come on in, grab your first beer of the day, and keep up with the fun in the comment section. Today we're featuring a pair of eye-catching Argentines in Spain.
Match of the Day
Barcelona vs. Atlético Madrid at 4 pm EST on GolTV
Even if you don't follow La Liga you should probably try to catch this one. Atlético won't challenge for the title like their hosts at Camp Nou, but Sergio Aguero alone makes their attack dynamic. Opposing him is Aguero's fellow Argentina national, Leo Messi, quite possibly the most entertaining player in the world.
Premier League Match of the Day
Manchester United vs. Blackburn at 12:30 pm on Fox Soccer Channel
Dimitar Berbatov and Wayne Rooney began to find their attacking rhythm until the latter was taken off with an ankle injury in Manchester's mid-week win over Aalborg in the Champions League. In all likelihood the Red Devils will have to go on without Rooney today against Blackburn, who will be without their goalie Paul Robinson. Blackburn's Paul Ince is making his managerial debut against his mentor, Sir Alex Ferguson.
Other Matches of Interest
Arsenal vs. Sunderland at 10 am EST on Setanta
The Gunners picked up the easy mid-week win they needed over Porto in the wake of last weekend's disaster against Hull City. They look to carry that momentum through against a banged up Sunderland side.
Fulham vs. West Brom at 10 am EST on Fox Soccer Channel
Fulham has one sick striker and one suspended striker, so they damn well better find some time out there for Clint Dempsey.
Werder Bremen vs. VFB Stuttgart at 11:30 am EST on GolTV
The last time these two sides met in Stuttgart they combined for nine goals, six of which were scored by the home side. Bremen is coming off of a mid-week draw in the Champions League against Inter, with Stuttgart tying Cherno More Varna in UEFA Cup play.
Villarreal vs. Real Betis at 2pm EST on GolTV
Hey, I think I just saw Jozy!