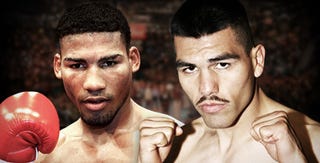 HBO's Boxing After Dark series has committed itself to highlighting the sports rising stars, and now it's time for fight fans to reap the benefits. The last time Yuriorkis Gamboa (11-0, 9 KO's) shared an HBO card with Alfredo Angulo (13-0, 10 KO's) both showed exactly why everyone is so high on the two young fighters. That night I forced the fights upon a gathering of fellow douchebag bloggers, and even those cynical bastards were entertained by every minute. Gamboa, the former Cuban gold medalist, won a unanimous decision in a big test against Darling Jimenez. Although he couldn't get rid of his toughest opponent he did show flashes of the hand speed that has people comparing him to Meldrick Taylor along with the stance and aggression of Mike Tyson. And all this in the body of a featherweight. In Gamboa's lone appearance since that night he knocked out a grievously over-matched Al Seeger in the first round on ESPN. Watch the fun below (and
click here
for the interview with Gamboa that preceded, and outlasted the fight itself).
Tonight Gamboa will be up against another strong test, this time facing another undefeated boxer, Marcos Ramirez (25-0, 16 KO's). This will mark the return to the ring for Angulo for the first time since the night back in May when he crushed the previously once-beaten Richard Gutierrez in a five round TKO (watch the entire fight
here
). Tonight he faces yet another in a growing line of tested opponents in Andrey Tsurkan. The Russian light middleweight who fights out of the Bronx has just one defeat in the past five years, and that was a split decision against the undefeated contender Yuri Foreman. Also featured on the loaded BAD card is a battle for the vacant WBC light middleweight title between the relatively untested Sergio Gabriel Martinez (43-1, 23 KO's) and the veteran Alex Bunema (30-5, 16 KO's). So if you are a fan of the combat sports tonight should be pretty excellent with this card along with the EliteXC event in primetime. Unfortunately Arthur Abraham had to postpone his fight for the IBF middleweight title because of the flu, and the card with Juan Manuel Lopez and Jose Lopez as co-headliners in Puerto Rico isn't televised in the states.