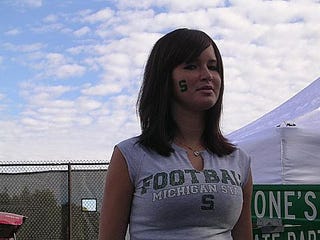 Michigan State is looking to move to 2-0 in the Big Ten, and they're looking good while doing it. The Spartans are holding off the Iowa Hawkeyes by a score of 16-13 in the fourth quarter. BC and NC State have slowed down a bit, and the Eagles lead 28-17 on the strength of Chris Crane's 319 yards through the air. As for the ranked teams, Penn State, Florida and Oklahoma are all pulling away from their respective opponents with Kansas trying to claw back against the Cyclones. Iowa State still leads 20-14. Continue after the jump for the next slate of games and your Hugh Johnson Project comments.
Update: Arkansas scored to get within ten, and now they have the ball back off of an interception at the end of the third quarter. Fuck.
Virginia Tech made their return to the top 25 this week (20) and they currently hold a seven-point lead over visiting Western Kentucky and their terrifying mascot in the second quarter. Stanford and Notre Dame have just gotten things going in South Bend, and don't pretend you aren't excited god damn it! Fortunately the 3:30 games, highlighted by the second ranked Alabama Crimson Tide taking on the Kentucky Wildcats, will offer up a bit more entertainment. On to the comments! I think the announcers have talked more about the coaches in Penn State-Purdue than the actual game. Not that I can actually blame them. -Signal2Noise I think there's a KU guy who just follows Mangino around on the sidelines. I don't know if this is voluntary or if he just can't escape the gravitational pull. -don keyhotai NOW I know why they created the Big Ten Network. So Indiana and Minnesota have their due. MUST CLICK OVER! MUST CLICK OVER! -kingdonut66 Oklahoma is executing this siege in Waco with precision the FBI wishes it had done 15 years ago. -Signal2Noise As everyone knows, the Raycom Announcers for SEC games are ALL named Dave (Two in the booth, 1 on the sideline, no studio team). Despite those facts, this just happened: "Now let's go down to, uh.........Dave?" -Mr. Red Devil If Tiller allows that kid to kick for the rest of the game, his team should be flagged for unsportsmanlike conduct, "utter dumbfuckery". Operation Shutdown begins . . . now. -kingdonut66 Keep them coming to The Hugh Johnson on AIM, or email them to unsilentmajority@gmail.com.