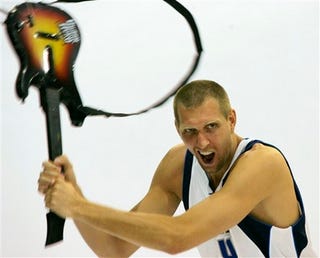 NBA training camps have begun; the season is rapidly approaching. Can you dig it? I knew that you could. And so we continue our previews: 30 of them in 30 days. Up next is a team that passed its freshness date two seasons ago: Dallas Mavericks.
When last we saw them:
Finished 51-31, fourth in the Southwest Division and seventh overall in the West.
Dirk Nowitzki wanted the Hornets in the first round
. He got them...and another opening round booty-kicking. So, you know, be careful what you wish for, mein Herr.
Key Arrivals:
DeSagana Diop (Part II), Gerald Green
Key Departures:
Juwan Howard, Jamaal Magloire, Malik Allen, Tyronn Lue
The Good:
Avery Johnson is out, and Rick Carlisle is in. Johnson had more than worn out his welcome, and Carlisle
plans to make better use of Jason Kidd's skills
than The Little Dictator ever did. Moreover, he wants to
instill a little nastiness
in a team that has been, historically speaking, a bunch of weak-willed head cases. Dirk Nowitzki should be as good as ever. The team's talented core (Nowitzki, Josh Howard, Jason Terry) has been together for several years, and continuity is supposed to be a good thing (even if that hasn't been the case in the playoffs). Howard should be motivated to prove himself to the world at large after a series of bizarre off-the-court problems (see below). Brandon Bass is an exciting young player who should get better and better. The Mavs still have
the best locker room amenities in the league
.
The Bad:
Josh Howard has been an embarrassment and a distraction since last April: The
admission of pot use
, the infamous playoff disappearance that was highlighted by
a wild birthday bash he threw for himself
after the team fell behind 3-1 in their first round series against the Hornets,
an arrest for drag racing
, and of course
the national anthem brouhaha
. I mean, seriously, that's downright
Artestean
. (But don't worry.
He's sorry
.) It's doubtful that Nowitzki will suddenly transmogrify into the big game player the Mavs want and need him to be. It's even more doubtful that Kidd has gotten any younger over the summer. Ditto for Jerry Stackhouse. They're still "90-pound physicist getting sand kicked in his face at the beach" weak at the center position. Mark Cuban is still liable to shoot the team in the foot by shooting off his mouth. The team has so much mental baggage at this point, it's hard to imagine them ever overcoming it short of a major roster overhaul. They inexplicably re-signed Devean George.
Fun Facts:
The
EA NBA Live 09 simulated season
predicts that Dallas will finish 54-29 (third in the West) and lose to the San Antonio Spurs in the first round. According to Forbes Magazine, the Mavericks are the third most valuable NBA franchise (behind the Knicks and Lakers), valued at approximately $463 million. Before the Mavs came to Dallas, the city was home to the
Dallas Chaparrals
, an ABA team that moved to San Antonio in 1973 to become the San Antonio Spurs. The Mavericks' alternate green uniforms, which are similar to the team's '80s road uniforms, were designed by rapper Sean "P. Diddy" Combs.
Videotastic extra:
If I did nothing for the rest of my life but watch this video, I would die happy. In fact, if you ever see me doing anything else at any time, it isn't me.