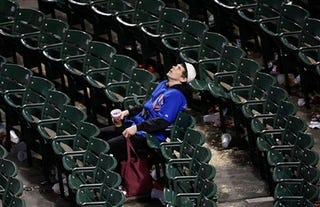 If God is a Cubs fan, as some people say, He has a really sick sense of humor. So many reasons to be optimistic this season; only to fail once again. Mere words cannot describe the 100 years of frustration suffered by the North Siders, although some of the following blog entries come close. Come witness the unfathomable tears of sadness below. Or, simply, sit in stunned silence, like the man above. Poor dumb sap. If he's still there by Halloween, could someone cover him with a Hefty bag?
•
Elegy To The 2008 Cubs
. Will I quit? Hell no; I'm a Cubs fan. That's how I grew up; if you're my age or older you have many of these shared disasters, now all of us have 2008. When last night's game ended I took off my division champions T-shirt, that I had been wearing for whatever luck or mojo it could contribute (sure, I know it can't really affect players 2000 miles away), but why not? — and tossed it in the trash. [
Bleed Cubbie Blue
]•
I'm Done
. I'm done with you Cubs convention!!!!!!! I've already cancelled my room. I'm done with it!!!!!! I'm done with the regular season!!!!!! Other them checking the scores, I'm done watching these pieces of shit in April-Sept. I'm done with going to to Wrigley in the regular season!!!!! I'm done with my W flag and Go Cubs Go!!!!!!!! I'm done until they win a playoff series!!!!! Next year was this year and this very talented team pissed it away!!!!!!!!!!!!!!! I'm done with MLBTRADERUMORS.COM. I'm done with it!!!!!! I could care less what they do in the off season. I'm done with Hot stove baseball talk!!!!! I'm done. The only thing that matter is October. I'm done!!!!! [
Ghostofpaulnoce
] •
So Long
. The Chicago Sun-Times's website says this in today's front page. If so, I think it was SUPER CLASSY of them to run an ad for the local cable service letting Cubs fans know they can "Watch the home teams on Comcast Digital Cable with HD." Yes, it's always fun watching my home team getting swept out of the playoffs in HD. [
Blogging Via Typewriter
] •
F$%& The Cubs, F$#* The Culture Of Losing, F#*$ Manny Ramirez, F#*% Aramis Ramirez, And F@#& You
. I can't process this or talk about it right now. I'm angry. Only in sports could a tradition of losing be a successful business model. And it's because retards like me keep coming back for more. [
Not Qualified To Comment
] •
The Disappointing Cubs: How 2008 Ranks
. Well, that sucked. Here's how the disappointing suckiness compares with previous disappointing suckinesses: [
Wrigleyville23
] •
Nine Reasons To Believe The Cubs Will Be Fine In '09
. Maybe life is not fair, maybe the world is cruel and stinging, maybe our hearts were made to be broken. But between all the heartbreak and sadness are moments, infantisimal in length yet seemingly infinite. It is these moments that define our lives — your first kiss, the first night spent with the love of your life (and the last), long departures and short reunions. Our love of sports in general and Cubs baseball in particular can certainly be described as cruel. We live with heartbreak, this weekend is only the most recent example. But our moment is coming, even if some of us will never live to see it. And that moment, when the Cubs win, it will be glorious. Believe me, it's coming. And if you don't believe ... well, what the hell are you doing here to begin with, then? [
Goat Riders Of The Apocalypse
].