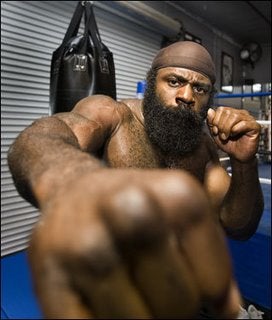 Prior to his shocking knock out by Seth Petruzelli on Saturday night, the worst case scenario for Kimbo Slice was achieving a Mr. T-like career arc by parlaying his reputation as a power-punching street freak into something more cuddly and mainstream. (Sadly we'll probably never see the Kimbo version of "Be Somebody...or Be Somebody's Fool" . ) In fact, Yahoo's Dan Wetzel says his career is effectively over after his pathetic loss.
He can't rebuild his reputation without stepping up in competition from the guy who just beat him in seconds. He can't headline a card and have anyone believe he's legit. He can't claim he, "just got caught" when it wasn't some wild, roundhouse right or sneaky arm-bar that did him in. The truth was always coming for Kimbo. Saturday it arrived sooner rather than later, the money train grinding to a halt courtesy of a smaller, less heralded fighter that no one can claim is some elite champion.
Also done-in by the Kimbo knockout is the "Elite XC" mixed martial arts organization, one which banked on Kimbo's oddly compelling star power and mythical status to keep it afloat. It's only hope for survival and keeping CBS interested was hinging upon its menacing, crazy-bearded show pony not losing a fight — especially to a pink-haired journeyman in 14 seconds. But it was fun while it lasted. Here's to hoping this loss rejuvenates Kimbo's YouTube career by fighting bums or polar bears or whatever he does so he can continue to feed his family. That's probably all he has left.
Final curtain for the Kimbo show
[Yahoo!]
Petruzelli makes most of Slice's inexperience and Ken Shamrock's bad luck
[ESPN]