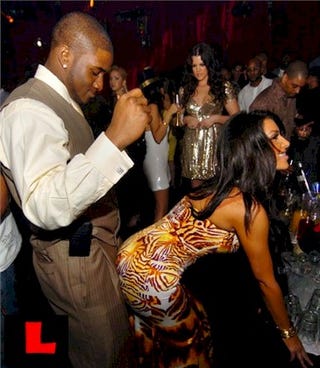 Even though tonight's game isn't the marquee match-up the MNF schedulers had hoped for in the beginning of the season, seeing Adrian Peterson do his Purple Jesus thing against a
shoddy Saints defense
could be entertaining. The Saints are
giving three points
, mostly because they're home and the Vikings offense hasn't proved it can score any points so far this season. Plus, what happened to that vaunted Vikings defense that was so spectacular?
They're not so spectacular so far
against the pass, which doesn't bode well for purple people considering that Drew Brees is having his second career resurgence and throwing with unconscious accuracy. He's like Robert Deniro with that tennis ball in "Awakenings." Even the Vikings defense
praises Brees
for both his tenacity and his ability to avoid forced sodomy: "He won't take any sacks," Williams said. "You got to give him all the credit. He's like Brett Favre and Peyton Manning. He's not going to let you just pound his (butt)." Speaking of butt-pounders (of the Aremnian female variety that is), Reggie Bush might have a little trouble sashaying into the end zone this evening, but never underestimate the man's ability to do big things on Monday night. If I were the type to wager for recreational purposes, I see no reason why any person wouldn't bet a foot massage with an agreeable party that the Saints will win by two touchdowns. ***** Tonight: Talk here about football if you'd like. Remember, Sussman's upstairs live blogging Red Sox/Angels if you'd like to watch him use his hands in ways that most human beings can't for your general amusement. Tip him accordingly with your love and admiration. Alright, I'm gonna go change my pants. See you tomorrow, thanks for your continued support of this internet establishment which shall no longer be using page views as an incentive come January 2009.