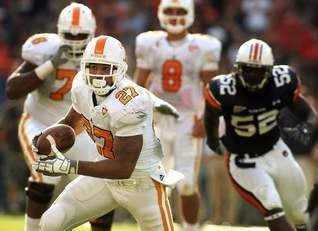 Sigh. The Vols are in the process of preparing for their road game at Georgia. A game that CBS had the misfortune of selecting. At least Jonathan Crompton isn't starting at quarterback for the Vols. You get the feeling that CBS' Gary Danielson might have refused to call another game quarterbacked by Crompton. Instead the Vols are trotting out their last, best hope for salvaging the season— red-headed sophomore Nick Stephens. And their leading rusher, Arian Foster, has to have a big game. Something he hasn't done so far this season. How did Foster respond when asked to comment on the upcoming game? He responded in Pterodactyl language. "Veeeeek! Veeeeek! Veeeeek!" Foster shrieked."
Practice had just ended last week. The Tennessee starting tailback, a senior on the verge of becoming UT's all-time leading rusher, was requested for media interviews. He had a demand: whoever interviewed him had to speak Pterodactyl, some made-up dinosaur language. No interview was conducted.
Foster and his family are featured subjects of the book and I like all of them. But this season has been so bad that every morning I wake up and tell myself, "You have a nice house and a nice wife and a nice son. They all like you. It really doesn't matter if your football team is bad." At some point I'm hoping this will take. Until then, our running back reverting to the Paleolithic era sort of provides a nice segue to our offensive schemes. Pray for me.
UT back's silence mirrors teams struggles
[The Tennessean]