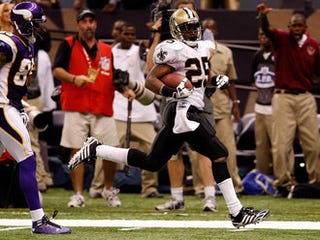 Even though the Saints lost MNF due to the improbable late game heroics of Gus Frerrote and the missed opportunities of the Saints (Gramatica), most of the attention is focused on Reggie Bush and his ridiculous punt returns. Bush's 71-yard punt return to the end zone resulted in Vikings coach Brad Childress chewing out his punter Chris Kluwe on the sidelines, instructing him to NOT KICK THE BALL to Reggie Bush anymore, please. (He wasn't that polite.) Yet, amazingly, Kluwe kicked to Bush again and the Saints' running back promptly trotted back 64 yards in the fourth quarter for another touchdown. Even though the Vikings won the game, Childress wasn't going to
let his punter's stupidity slide
:
"Both of those kicks are supposed to be out of bounds," Childress said, "and when you say to somebody kick the ball out of bounds, that's what you expect to happen. That's what I expect to happen with a professional football kicker." Asked if Kluwe cannot handle directional punting, Childress shot back, "You know what? If he can't do that, I'll find someone that can kick the ball out of bounds."
Chris Kluwe responded to Childress' comments: "Obviously, I'd love to be able to do it whenever they like, but sometimes it doesn't work out like you want it to."
Obviously.
Kluwe signed a huge contract with the Vikings in the off-season making him one of the 10 highest paid punters in the league. But if his job as a punter is no longer secure, Kluwe does have other skills to fall back on. According to his Wikipedia page, Kluwe is "an ex World of Warcraft player. He used to play a level 70 Rogue on the Kil'Jaeden server. He is currently a member of The Flying Hellfish Guild, and now plays with them in the game Age of Conan on the Tyranny Server." So he's got that going for him.
Childress: If Kluwe can't do it, "I'll find someone to kick the ball out of bounds."
[Twin Cities] (via
Real GM
)