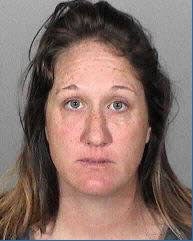 The Manhattan Beach Police Department refuses to give out the mugshot (not their policy) of one Stacy Elizabeth Beshear, 34, of El Segundo
Well
here it is
. Yikes. Thanks to commenter
The Pimp Hand is Way Strong
for is efforts. Stacy Elizabeth Beshear, 34, of El Segundo was
officially charged with stalking
the Lakers forward and now faces up to one year in prison for her disturbing behavior. The Orange County Register's Kevin Ding had the
exclusive one-on-one interview with Walton
who spilled the details about the woman's crazy antics that had him legitimately spooked:
It's bananas. I'll be going to sleep at night and just randomly look out the window. Just to check. Just because. She has been out there at 12:30, 1:30 in the morning. She would park outside my house for hours and hours. I would drive out, and I would see her peeking through. It would suck, because I know I'm leaving my home, and I know she's still there. What am I supposed to do? Is she planning on breaking in? Am I going to come home one day and she's sleeping in my bed? Is she going to steal my dog?
Is it wrong that I actually want to see a picture of what Luke Walton's stalker looks like? And the half-hearted lengths I've gone to get this picture — Facebook, MySpace, phone calls to the PD, etc. — does that make me a stalker now? Vicious cycle, this blogging business. But...if anybody can scrounge up a photo of Luke Walton's loon it'd be most appreciated. I'll send you a copy of "God Save The Fan" or something. Her trial is Nov 6th. Hopefully we won't have to wait that long. ************** Tonight: Go pop some Vicodin and watch the debates. It's gonna get feisty. Tomorrow: A funny story about our old friend Stuart Scott has surfaced, so it will be shared and discussed in a civilized manner, of course. Thank you for your continued support of Deadspin. And wish Canadians a Happy Thanksgiving or something in advance. Remember: You can't have any pudding if you don't eat your
SKEETS.