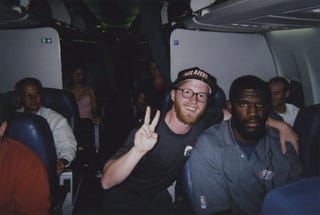 Thanks to Phil Golding for this picture, who got it from a friend who enjoyed a recent flight with Trail Blazers rookie Greg Oden. I think it's hilarious that the preseason hadn't even started yet, and already Oden is fed up with the fans. His attitude had improved greatly by Tuesday, however, as the seven-foot rookie from Ohio State finally made his Portland debut in a 110-81 Blazers' win over Sacramento at the Rose Garden. Oden, who sat out last season with a knee injury, scored Portland's first points of the preseason with a pretty impressive dunk, going on to score 13 points in about 20 minutes. So now, let the hype begin. Here's the assessment of Young Frankenstein's debut
from Blazers Edge
: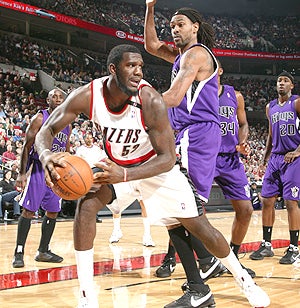 I assume that the minute he stepped on the court everybody saw the difference between Greg Oden and not just everybody else in the game, but pretty much everybody else on the planet. I mean, "RAAAAAWWWR! GREG SMASH NOW!" What? Huh? Say, you're pretty hu… "YOU MOVE NOW! GREG DUNK BIG!" Oh sorry…I was standing in your way there. My mistake. (I don't mean to convey any limited conversational skills on Greg's part…there just aren't polite words and whole sentences for what he does out there. It's primal.) His offense obviously needs some work, but then again what's wrong with a back-down dribble, a spin, or an offensive rebound and then a monster slam? Sounds good to me.
More photos here,
and
further Oden worshipping here
. Of his
five baskets, four were dunks
, and he also blocked a dunk attempt by Sacramento center Spencer Hawes. For a more detailed analysis of Oden's performance, look no further than Portland's LaMarcus Aldridge: "I'm going on record and saying that Greg is a man-child." •
Elgin Baylor Unceremoniously Tossed Overboard By Clippers
. Former Lakers star Elgin Baylor, who was a great shooter, rebounder and passer during his career — therefore leaving him nothing in common with today's players — has stepped down as vice president of basketball operations with the Los Angeles Clippers. And by stepped down we mean
resigned amidst some sort of dispute
. Mike Dunleavy will assume his responsibilities as general manager. The Clippers issued an 18-word press release; hardly a fitting tribute considering the man spent 22 seasons with the team. •
Captain Ron
. Ron Artest's Houston Rockets debut highlighted an otherwise tepid, mistake-prone exhibition opener at the Toyota Center,
Houston beating Memphis 96-93
. Carl Landry led the Rockets with 18 points, and Artest scored 12 of his 15 points in the first quarter, making three of his five 3-pointers. But he made just one of five shots in the second half and four of 12 overall. •
It's Go Time
. Wizards' forward Antawn Jamison wasted little time climbing onto the pain train, leaving their exhibition game with the Mavericks in the first quarter with a right knee injury. Dirk Nowitzki and Brandon Bass each scored 17 points to lead Dallas to a 108-82 win.