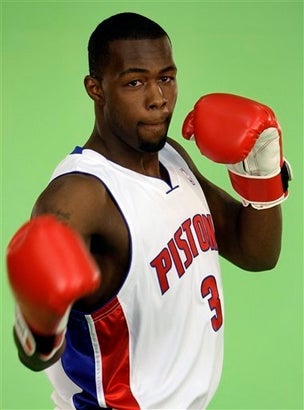 NBA training camps have begun; the season is rapidly approaching. Can you dig it? I knew that you could. And so we continue our previews: 30 of them in 30 days. Up next is a team that has become the NBA's perennial bridesmaid: The Detroit Pistons.
When last we saw them:
Finished 59-23, first in the Central Division and second overall in the East. Suffered their third straight defeat in the Eastern Conference Finals, this time at the sweaty, leather-scented hands of the Boston Celtics.
Key Dubious Arrivals:
Kwame Brown (OH DEAR GOD), Walter Sharpe, Will Bynum
Key Departures:
Jarvis Hayes, Juan Dixon, Theo Ratliff
The Good:
Despite their recent playoff disappointments, Joe Dumars did not panic and blow up the core he has so carefully constructed. For that reason, Detroit still has one of the best (if not
the
best) starting fives in pro basketball: Chauncey Billups, Rip Hamilton, Rasheed Wallace, Tayshaun Prince and Antonio McDyess. They also have the "Zoo Crew" (Rodney Stuckey, Jason Maxiell, Arron Afflalo and Amir Johnson) coming off the bench. So they're talented, experienced
and
deep. Not a bad combination, eh? Furthermore, the Pistons are one of the best defensive units in the league on a yearly basis: They were first in the NBA in points allowed last season (90.1) - which makes them one of two teams (along with the Spurs) to finish in the top three in that category during each of the last five seasons - and third in opponents field goal percentage (.437). Flip Saunders has gone the way of the
parachute pants
, which is good since he had worn out his welcome and certain players (coughRasheedWallacecough) never fully respected him anyway. New head coach Michael Curry
seems pretty well-respected around the league
. Oh, and 'Sheed - whose contact is up after this season and therefore could be due for a
Contract Year Phenomenon
- is always
good for a few laughs
.
The Bad:
Their biggest offseason acquisition was Kwame
"Stone Hands"
Brown. Curry is a rookie head coach with only one year of experience as an assistant, and even though this is a veteran team that should be able to police themselves, it seems to me they need a strong hand to guide them and keep them in line. This is particularly true since the team has a bad habit of succumbing to hubris and presuming they can just show up and beat anybody. That sense of entitlement has hurt them, and badly, in each of the last three Eastern Conference Finals against teams (the Heat, Cavaliers and Celtics) who simply wanted it more. The core group of starters is aging, and there's a sense that their incredible run of health - Billups, Hamilton, Prince, Wallace and McDyess have all appeared in at least 70 games in each of the past four seasons - has to end some time. Also, historically speaking, teams that continually fall short in the playoffs don't usually make The Leap unless they make some dramatic change or heady signing...and Kwame Brown doesn't fit the bill in either case. Oh, and 'Sheed is a ticking time bomb waiting to go off.
On pretty much anybody
.
Fun Facts:
The franchise was founded as the Fort Wayne Zollner Pistons, and their logo was
a dude made out of tin cans
. (Okay, they're actually supposed to be pistons. I think. You've got to admit the picture is poorly rendered.) Before
Hooper
, the Pistons' mascot was
Sir-Slam A-lot
, who, frankly, was much cooler. (By mascot standards, anyway.) Pistons fans (that is, fans attending games at the Palace of Auburn Hills) consume about 175,000 gallons of soft drinks during a season. That's equal to the volume of 103,550 regulation size basketballs or 1,866,702 12-ounce cans of pop. Richard Hamilton is the only player in NBA history to lead his team in scoring without hitting a field goal. On
January 6, 2005
, Hamilton went 0-10 from the field and 14-14 from the line yet was still the team's highest scorer.
Videotastic extra:
Two words: Jingle Bells.