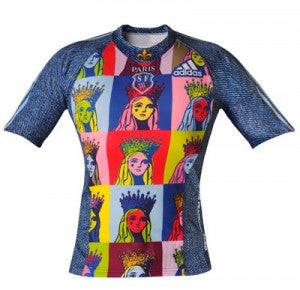 Ah Paris, city of haute cuisine, thin mustaches and aggressive poodles. You are also home to Stade Francais, the traditional Rugby Union powerhouse which, when it comes to uniform fashion, has a certain
je ne sais quoi
, eh? Here is their latest shirt design, launched to coincide with the European Cup which started this past weekend. This is their actual game jersey, depicting the face of Blanche de Castille, the wife of Louis VIII (like I had to tell you). But this of course is nothing compared to last year's Stade Francais uniform, shown after the jump.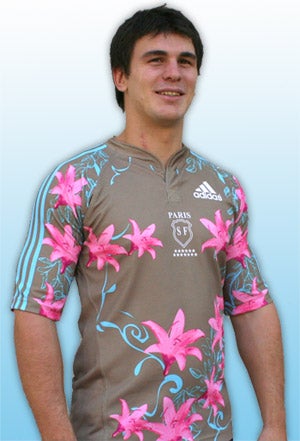 Yep, they played in these. You may think that a comical notion, but you haven't really seen comedy until you've seen these unis
involved in an all-out rugby brawl
.
Stand down, 1983 Houston Astros
. I think we have a winner. And,
speaking of bad attire ...
Is This The Worst Sports Kit Ever?
[Anorak]