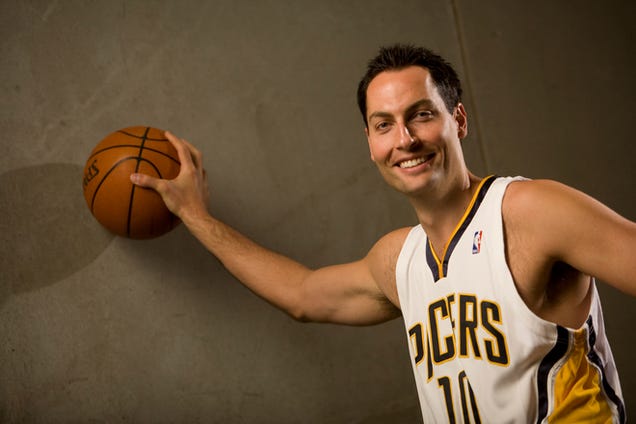 NBA training camps have begun; the season is rapidly approaching. Can you dig it? I knew that you could. And so we continue our previews: 30 of them in 30 days. Up next is a team that, unfortunately for them, is still based in Indiana: The Indiana Pacers.
When last we saw them:
Finished 36-46, third in Central Division and ninth overall in the East. Sadly, they barely missed out on making the Eastern Conference Playoffs.
The new guys:
Austin Croshere (WTF? He's back?!), Brandon Rush, Jarrett Jack, Maceo Baston, Count Chocula, Rasho Nesterovic, Roy Hibbert T.J. Ford
Good riddance to bad rubbish:
Flip Murray, Ike Diogu, Kareem Rush, Jamaal Tinsley, Jermaine O'Neal
The Good:
Jamaal Tinsley and Jermaine O'Neal - the final significant holdovers from an era the Pacers want and need to put behind them - are finally gone. (Well, Tinsley is technically still on the roster, but team officials have told him to "stay away.") This should improve the team even more than if they were able to somehow obtain Michael Jordan's robot clone from the year 2099. (He's busy fighting intergalactic space pirates anyway.) Jim O'Brien is kind of a Mike D'Antoni-lite, which means the Pacers will run, pop a lot of threes, and score some points: Last season, they were seventh in PPG (104.0), seventh in assists (22.7) and eighth in three-point field goal percentage (.374). Danny Granger (19.6 PPG, 6.1 RPG) is turning into everything Larry Bird hoped he'd be. Mike Dunleavey Jr. (19.1 PPG, 42 percent from downtown) has improved more than anyone thought possible. (And I do mean
anyone
.) T.J. Ford loves to run and jack it up, which makes him a perfect fit for O'Brien's offense. Ford also averaged 6.1 APG last season, so, you know, he sometimes looks to pass too. Jarrett Jack is a solid backup at the point. Brandon Rush and Roy Hibbert are nice rebuilding blocks (and Hibbert, at least, knows how to play D). Rasho Nesterovic can provide occasional inside scoring. Did I mention that O'Neal and Tinsley are gone? Probably can't stress that enough.
The Bad:
This team cannot defense. I mean, a coma patient could probably score in double digits against them. Which is weird because last season they were fifth in opponents turnovers (15.8), ninth in opponents field goal percentage (.454), ninth in blocks (5.0) and 11th in steals (7.6). But those numbers are deceiving, since the Pacers gave up 105.4 PPG, which was "good" for 26th in the league and about a point and a half less than they were scoring themselves. See, in professional basketball, you still have to outscore your opponent to win. They also committed about 15 turnovers a game and allowed opposing teams to shoot 38.6 percent from downtown, which was next to last in the league. I know this is a stat-heavy appraisal, but these numbers are indicative of a team that plays at a breakneck pace and focuses mostly on one end of the court. They also traded one streaky, injury-prone PG for another; Ford missed the entire 2004-05 season with a neck injury and missed 31 games last season after a flagrant foul by Atlanta's Al Horford. Half the team is new, and as always it's unclear how long it'll take them to form a nice, thick gel. Oh, and they rely way too much on Mike Dunleavy Jr. for anyone to feel too comfortable about their chances to compete. Even in the East.
Fun Facts:
This year's team slogan is "Team Ego." This supposedly means that no one player will be above the rest or some crap like that. Their D-League affiliate team is the
Fort Wayne Mad Ants
. And yup, that's where the now-famous
Nightmare Ant
originated. The Pacers were last in the league in home attendance last season at about 6,110 depressed fans per game (
according to Basketball-reference.com
). SAD FACE.
Videotastic extra:
Seriously, I do NOT suggest going to the Pacers' mascot for plastic surgery.