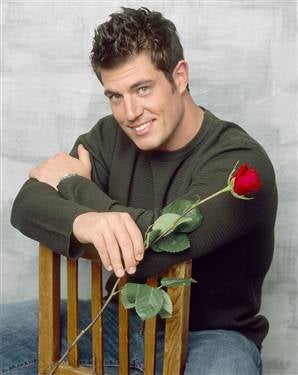 There are so many reasons to dislike Jesse Palmer. Being a contestant on
The Bachelor
. Being Canadian. Being so ... handsome? And the worst part about him is that he just won't leave us alone, popping up in the darnedest of places. Like our dreams. Or, more universally, invading our aural space during this year's Thursday night college football schedule on ESPN. So it's good to see the folks over at
Central Maine Sports Blog taking him down a notch by instantly analyzing Palmer's first stint in the booth with great vengeance and furious anger
. Just some tip-of-the-iceberg analysis for you:
PQ-Talking about the Wake defensive line-"Different lotations". Yes, lotations, I rewound it and listened to it 5 times. I believe he meant locations. PQ-On Riley Skinner-"He threw a couple of turnovers early". I am assume he means interceptions. Unless of course you can throw a fumble now. PQ-"Last year he completed 72% of his passes, he is completing 69% for his career. UNBELIEVABLE!"
It gets a little more embarrassing along the way, with Palmer's "analysis" basically consisting of rotating between three words: "huge", "unbelievable" and "absolutely". Let's hope that someone gets him a thesaurus before next Thursday. Or at least a pink slip.
The Jesse Palmer Experience
[Central Maine Sports Blog]