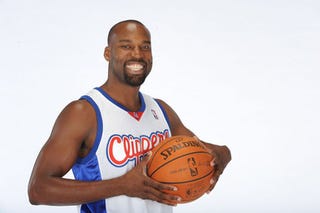 NBA training camps have begun; the season is rapidly approaching. Can you dig it? I knew that you could. And so we continue our previews: 30 of them in 30 days. Up next is a team that seems destined to be the ugly, bowlegged stepsister of the NBA: The Los Angeles Clippers.
When last we saw them:
Finished 23-59, dead last in the Pacific Division and 12th overall in the West.
Innies:
Baron Davis, DeAndre Jordan, Eric Gordon, Jason Hart, Marcus Camby, Mike Taylor, Ricky Davis
Outties:
Brevin Knight, Corey Maggette, Josh Powell, Elton Brand, Quinton Ross, Ruben Patterson, Shaun Livingston, Smush Parker
The Good:
They acquired Baron Davis in this summer's free agent giveaway, and B-Diddy seems pretty stoked to play in his hometown. Davis is a PG who's strong, fast, can score and dish, and is willing and able to take over in clutch situations. They also stole Marcus Camby away from the Nuggets for pretty much nothing. (The right to swap second-round draft picks? For a former Defensive Player of the Year? Really?!) Chris Kaman is dominant on the boards and can bully his way into the paint for easy (though rather ugly) buckets. Al Thornton played the second half of last season like he was living off a diet of Gamma Rays and radioactive spider bites, and trust me, he's going to get nothing but better. Seriously, that Camby/Kaman/Thornton front line should be pretty imposing. Cuttino Mobley, Tim Thomas, Ricky Davis are bucket fillers. They actually managed to nab a couple exciting kids in this year's draft: combo guard Eric Gordon and forward DeAndre Jordan. Elgin Failure is finally out as GM. (Note: He was only a bad GM; as a player, Elgin was legen...wait for it...dary.) When you win only 23 games the previous season, there should be nowhere to go but up. Although they are the Clippers, so maybe you should scratch that last statement.
The Bad:
Elton Brand defected to the Philadelphia 76ers, and, frankly, there's no replacing what he brought to the team. Corey Maggette bolted after what was, essentially, a career season. That's a 22 PPG hit for the Clips. I guess they think Ricky "I'm all about me, me and me" Davis is going to replace those points. [Insert maniacal laugher here] Baron Davis should be one of the best PGs in the league - maybe even an All-Timer - but his ability to stay focused, motivated and healthy have always been in question. And now that he's surrounded by his family, childhood buddies and college pals? That's going to help things? Plus, dude got fat during the offseason and has been using the Jenny Craig diet to get in shape. On the advice of Queen Latifah.
I am being deadly serious
. They finally ousted Baylor, and then replaced him with...coach Mike Dunleavy? Great idea. Just ask the Milwaukee Bucks how that turned out for them. And Dunleavy, who's about as stable as the world economy, is supposed to bring all the new parts and get them working well with the old parts. Huh.
Fun Facts:
The Clippers began in 1970 as the
Buffalo Braves
, a team with
a rather inexplicable logo
. Their D-League counterpart is the
Anaheim Arsenal
. They Clippers have been in Los Angeles for 24 years. In that time, they have appeared in the playoffs four times (1992, 1993, 1997 and 2006) and have won a total of 11 games. Seven of those wins were in '06. This history of playoff futility makes them the oldest current NBA team never to make it to the NBA Finals. On March 1, 2006 the Clippers held the New Orleans Hornets to an NBA record low 16 points in the second half of play. Since the introduction of the shot clock, no point total for a half had been lower than 19. So...you know...yay, Clippers!
Videotastic extra:
Hip 2 Clip, baby. Hip 2 Clip.