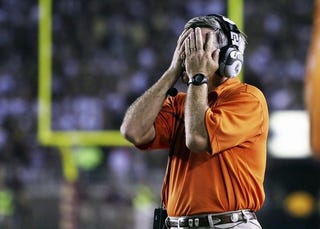 In the wake of Tommy Bowden's firing after nine years at Clemson, current players are already piling on. The quarterback he benched, Cullen Harper,
told ESPN, "They just told us. It's what he deserved."
And this whole firing business might not be that big of a surprise since
in the Clemson-Wake Forest preview on Thursday
, I pointed out that in nine seasons Bowden had never won more than nine games, an ACC division or conference title, or finished a season with a team ranked higher than 21st in the country. But he did have the number 2 recruiting class in the country and did not completely collapse in any of his seasons. (I'm defining collapse broadly here.) Raising the question, how good of a job is Clemson? Consider the following: Clemson has not won an ACC title since 1991. The coach then was Ken Hatfield. Prior to Hatfield Clemson won five conference titles and their only national championship under Danny Ford. Things have really gone downhill since Ford was forced out at Clemson in 1990. Some would argue that Ford was successful because he cheated, but he was cleared by the NCAA of those allegations. Which probably means he has money and a good legal team. Regardless Clemson has won 18 conference championships in the ACC, plays in front of 80,000 fans, and has a fairly fertile recruiting base given their location. But that location is also surrounded by other large programs: Georgia, Florida State, South Carolina (arguably), Tennessee, and now, with Butch Davis, North Carolina. So where does Clemson really rank in the college football pecking order? It's not a top 25 job. But where does it rank between 25 and 40? And who can they get to replace Bowden? One early candidate? How about Tommy Tuberville? Auburn fans are ready to kill him after losing to Arkansas and the failed Tony Franklin experiment. Not to mention the fact that Nick Saban has now arrived in Alabama to receive sainthood and Auburn has never showed great loyalty to Tubs. Leave Auburn after winning six (and potentially 7 in a row) over Alabama, and you'll probably become an even better coach in retrospect. Meanwhile you could take over a talented Clemson team in a weakened ACC and probably win a championship in the next three years. Could Clemson switch one Tommy for another one? If they don't go after Tuberville, then they shouldn't look much farther than Vandy's Bobby Johnson—a proven winner in the state at Furman, who is a hell of a coach and has managed to win in the SEC. Anyway, there's a couple of names to think about as theses coaching messes/searches play out. Meanwhile, at least Tommy Bowden got a 2007 raise from Clemson after flirting with the Arkansas job. Maybe he should have left Clemson then. Because, for a variety of reasons, Clemson fans have never warmed to him. After snatching his job from onrushing defeat, time after time, at long last Wake Forest took him down. Clemson probably acted now because if they hadn't Bowden would have found a way to pull out another 8 or 9 win season before things were all said and done—his team opened as favorites over Georgia Tech. In the end 8 or 9 wins wouldn't cut it at Clemson. We'll see whether someone else can get above that hurdle.
Bowden fired at Clemson after 3-3 start
[ESPN]