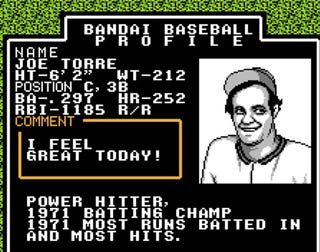 The Dodgers want to even up this series at 2-2. Strangely, the Phillies don't agree with them on that issue. It remains to be seen if the Phillies will stay unbeaten in Deadspin live blogs, or if Tim McCarver will fall asleep sometime during the sixth inning. Derek "Derrick" Lowe will pitch against Joe "The PItcher" Blanton. All you need is jump. Jump is all you need. * * *
Bottom 9th
7


5
12:09
— Phew. That's just about as exciting a game as one could ask for. On a night when the Browns dismantle the Giants by 21 points, somehow this game was way goofier. The road blood has finally been shed between these two teams in 2008, and you know what this means? It means that Daulerio is paying me triple to live blog Game 5. Ha! Actually I don't think I'm going to cover that one, but hey, Philly has won LOTS of games without me staring at them. So I'm told. Anyhow, it appears the servers were on their best Eddie Haskell-like behavior tonight, so let's quit typing before something horrible happe
12:08
— Zip. Right into the third baseman's glove without touching the ground. I believe Brad Lidge had himself a shaky but extremely survivable outing. Much like any given seismographic day in Los Angeles.
12:06
— And look, Jeff Kent! My my my, I feel like I'm watching
TWIB
on a rain delay and I'm seeing all the stars of yesteryear. Or maybe I'm in the middle of a Bobby Valentine anecdote.
12:06
— Quick, back to the dugout. Casey Blake strikes out at the plate, and in the fashion mags. Let it grow, brah.
12:04
— Hey, Mia Hamm's husband plays baseball? I guess not well enough to start. Nomar Garciaparra flies out.
Top 9th
12:01
— Aw, why not just make it a complete set and get all your outs at second base? The pitchout completely stones Bruntlett on the basepaths and he's thrown out so bad, it's the baserunning equivalent of Joe Blanton swinging for the fences. Is the two-run lead enough?
11:59
— That was the same play, just with different dudes. Forceout at second, beatable throw down the line to first. Now the baserunner is Eric Bruntlett.
11:57
— The Maculay Culkin trap set by Dodgers in the form of the infield shift snares up another Ryan Howard ground ball, but they can only get Utley out at second. Let it be known that Howard's been working out so much this game, slipping, slipping again, and grounding out some more, that he shed off just enough ounces to beat the relay throw to first.
11:54
— Good news, Philly fans. Broxton still has to pitch. But maybe not for long. The venerable Greg Methuselux is warming up.
Bottom 8th
7


5
11:50
— Not what the Los Angeles of Los Angeles Dodgers fans had in mind. Loney strands the two with a fly to right, but Lidge really had to labor just to get that one out. He might be vulnerable in the ninth, so now's the time for Philly to flick another run across the scoreboard. If they want to.
11:50
— James Loney vs. Brad Lidge in "Let's See How Many We Can Foul Off."
11:46
— Like your typical
It's Always Sunny In Philadelphia
episode, this is the part of Lidge's outing that is parallel to Mac's ingenious plan about to go horribly wrong. He strikes out Martin, but the pitch bounces off Ruiz's shinguard and everyone's safe at the corner delis.
11:45
— Not to jinx anyone or anything but ... Russell Martin, cleanup hitter? He wasn't even that powerful in the regular season, OPS+ing right around 103. Not really the kind of numbers for a No. 4 hitter, especially with Manuel in the lineup.
11:44
— Maybe that was his problem. Lidge hangs on in the middle that Ramirez drives to the gap for two solid bases.
11:42
— Lidge is not afraid this time. He's going right at Manuel Ramirez, and #99 is clearly on the defensive.
11:38
— Hi, I'm Charlie Manuel. I've got zero bars in this crazy city, so that call about not putting in Brad Lidge in the eighth inning? Yeah, I didn't get that. All right, BL, get in there and give us four solid outs!
11:37
— Romero's walk of shame is wiped clean by a double play ball, courtesy of Andre Ethier. With the bases empty, hell, why not intentionally walk Manny Ramirez?
11:36
— Whaddya know. Another 3-0 count. J.C. Romero, thanks for not letting me down.
11:35
— What else can happen? A Dodgers rally? I've already been this fortunate to experience a nautical assload of ties and lead changes. What's one more?
Top 8th
11:31
— For the sake of comprehensive coverage, Werth strikes out to end the inning. I'm sure some other stuff happened before that.
11:27
— No wait, seriously, how in the name of Christ on a cracker did Matt Stairs (you know, Matt Stairs) hit the hardest pitch of the series? He's Barry Bonds with a blindfold. You have to roll two 20s in
AD&D
to get that kind of a critical hit on a fastball. I'm ... I'm never gonna get out of doing another Phillies game again, am I, Daulerio?
11:26
— Okay, I can finally talk now. HOW THE FUCK DID MATT STAIRS DO THAT? I'm mightily impressed.
11:24
—
[shocked silence]
(translation: Matt Stairs slobberknocks a two-run home run)
11:23
— There's your Jonathon Broxton in the game already, gunnin' for the Step Club's major, Matt Stairs.
11:22
— An NFL update. With less than eight minutes remaining in the game, it's Cleveland 35, New York 14. No wait, that's the obesity percentage for both cities. My mistake.
11:20
— Esoteric choice of music there with the "Rocky" theme song as Torre makes another pitching change.
11:18
— Yes, that'll pretty much tie the game. Shane Victorino continues to be the other non-lower-48-states American native this fall to make a splash and blasts a home run just over the gate in right field to tie this game. You betcha.
11:17
— Angel Berroa (hey, how'd YOU get in the game?) fields Burrell's lazy pop fly with little problem.
11:13
— It sure was nice to let Kuo bat in the previous inning just so he could allow that extra base hit. Torre gives him the heave-Kuo (HELP ME, I HAVE PUN CANCER AND I CAN'T STOP!!) and brings in Cory Wade.
11:11
— Ryan Howard made it all the way to first without tumbling. That in itself is an accomplishment on this slick field. They must've rubbed his balls down with special mud.
Bottom 7th
3


5
11:08
— Nope. No more runs. Kemp's hard-hit ball lands right in the soft underbelly of Victorino's glove.
11:06
— They're going to let Kuo bat. His bunt almost causes a charging Howard to, like a frost giant, slip like a fool, but recovers and throws him out. Would you say that was a Kuo-se call? Ha! Well, you would say that, wouldn't you? Always looking for the cheap, groaning laugh. That's what separates you from me.
11:05
— Never mind this exciting close game. Let's talk about Beckett and Scott Kazmir's injuries.
11:05
— Cool, Josh Beckett's oblique is purple?
11:03
— With such a gelatinous strike zone, how are all these pitchers falling behind 3-0?
11:01
— Madson gets HIGH AND IN!!! on James Loney, then proceeds to strike him out. Tonight, let it be fisticuffs.
Seventh Inning Stretch Video Literary Endeavor
Normally, this is where videos are shared, but in an attempt to further advance the culture of Deadspin readers, why don'tcha
read the longest known palindrome
. Then read it backwards. You'll have read it twice! There will be a quiz on it tomorrow, so be sure to remember the major characters, the setting, the symbolism, and one thing you liked about it. And don't bother checking Sparknotes. It's not there.
Top 7th
10:55
— Rollins, Werth, and Utley are all set down in a row. You could say Dodgers reliever Hong-Chih Kuo sure got his Kuo-ta of big outs in the seventh! But I wouldn't. I'm above such lame attempts at humor.
10:53
— Incessant replay shows that, yes, Chase Utley plays the violin.
And It's ... Still ... Bottom 6th
3


5
10:50
— Great double-up play by Stradivarius to field the liner, then crawl and dive for the second base bag to force out Furcal.
10:48
— Ryan Madson will now try and plug the rubbed down ball slapping orgy.
Another Commercial Break
The Brooke Shields commercials were actually funny when I first saw them. But they had to go and spoil it with different commercials with the same one-joke premise.
Still Bottom 6th
10:44
— He's like Barry Bonds, but with a heart of gold and normal sized testicles. (The similarity I'm going with is that he keeps getting intentional walks.)
10:43
— As long as we're having goofiness in this inning, might I remind you that
the Browns lead the Giants by six in the third quarter
. Eli Manning has two interceptions. Yep, that'll do it.
10:40
— A calm, unnerved, focused throw by Ryan Howard was actually meant for a phantom base 10 feet away from Chase Utley covering at first. A run scores on the error, and Los Angeleans are well situated on second and third. (Still zero outs.)
10:38
— It appears they took all of Casey Blake's clippings and glued it to Scott Eyre's chin. He's your new pitcher.
Commercial Break
And they have Miller High Life guys delivering beer to baseball stadiums
during
the game since when?
Bottom 6th
10:35
— I just realized: Joe Beimel is in line for the win. All for throwing one pitch to a guy and having Ethier needing to make one hell of a catch as a result of it. As if you needed more proof the win is a useless pitcher stat.
10:34
— We never liked Joe Beimel anyways. Matt Kemp will pinch hit for him. Do you realize what this means? Now Juan Pierre will stay in center field. For, like, the entire game. Also, Chad Durbin sure enjoys 3-0 counts, and finally he just caves and throws a fourth one wide.
10:33
— Before the game, MLB donated $328,840 to the Prostate Cancer Foundation — $10 for each strikeout this season. The Prostate Cancer Foundation will begin work on their new Adam Dunn Wing next spring.
10:31
— Juan Pierre keeps reaching base like he was a good free agent signing or something. His speed helps him reach second easily. Now he won't get caught trying to steal it. But there's always third base.
10:29
— Casey Blake, now with Acceptable Public Stubble kung-fu grip, belts a home run into the left field seats for one point.
10:28
— Spotlight on the Buck/McCarver booth. And ... Tim has a much, much higher chair than Joe does. Normally they reserve the high chairs only for children under five, but in Tim's case — after much pleading — they clearly made an exception. (Also, Chad Durbin's in the game. Mothers, hide your children and make sure your windows are baseball-proof.)
Top 6th
10:24
— It must be Bullpen Russian Roulette night at Chávez Ravine. Joe Beimel arrives to the game just in time to pitch to Jenkins. And soon thereafter, Andre Ethier dives from out of nowhere — although I'm guessing right field is where he was initially — to save at least a run. Fella sure made some defensive plays out there this inning.
10:22
— The nation is deprived of one more at bat where Joe Blanton swings at the ball like a computer geek with scoliosis playing tetherball. Geoff Jenkins will step in instead.
10:19
— Chan Ho Park? Wild pitch? I am shocked. I'll have to see visual evidence of this before I believe it with ... oh, there's a replay. Ryan Howard doesn't have the woodland creature quickness but he finds his inner frost giant lumbering ability to scamper home and tie the game.
10:18
— Tonight's theme is "people almost running comically into each other." Ethier stumbles, catches, falls to his knees, but Ryan Howard doesn't have the elven-like quickness to tag up and run home. Two out.
10:17
— Somehow, Chan Ho Park is a better decision to get LA out of this delicious strawberry jam than the 20-year-old phenom. Aw, but I was half hoping to see the future of a baseball team get his confidence shattered in this NLCS game!
10:13
— Chad Durbin and Chan Ho Park are warming up in the Phils/Dodgers bullpens. Equalizing vacuums of suck balance out the cosmos.
10:13
— Hot bunting love advances the runners, and a Shane Victorino is returned back to the dugout in near-mint condition.
10:12
— Aw, Kershaw wants to grow a beard so badly. After falling behind 3-0 on Burrell, two generous strikes sets up a full-count single through short and third, known affectionately as the Jeter Woulda Gotten To That Zone.
10:09
— Interesting start. Ryan Howard walks, and the shift works as he is pulled in the direction of first base. Good thing he didn't go the opposite field on his walking, or else he'd be in scoring position by now.
10:07
— I hope you enjoyed your fill of Derek Lowe. NO MORE! Lineup announcing prodigy Clayton Kershaw is being asked to hold this lead.
Bottom 5th
2


3
10:04
— These promises of giant innings turn into just plain ol' couple-of-run innings tonight. We had one in the first, and now here DeWitt hits into a double play to make sure no more runs are tallied in the fifth.
10:03
— The Big Lead is asking me if
Blanton's hat has pine tar on it
: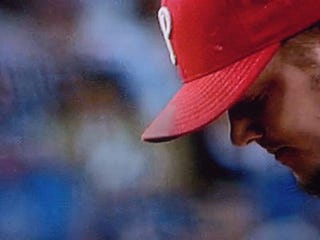 I'll go with peanut butter cup residue. No, it's not a fat joke. I'm eating one right now. No, I'm not fat. No,
you
are!
10:01
— RBIs are easy (and fun) when other people are already in place. Martin's grounder to short gives the Dodgers the lead. I could get 50 RBI a year if I had those kinds of situational hits. Now, let's just walk James Loney.
9:58
— No strandy strandy at all, it appears. Manuel Ramirez kicks a ball into left, and Furcal slides completely through Ruiz's shin — despite Larry Bowa's semaphoric requests — and the Phillies lead becomes not a Phillies lead at all, actually.
9:57
— So here's a rally, finally. Ethier's ball to center tailed perfectly to left, and Furcal's on second like I said he'd be. Now with zero of them "outs," it's going to take a whole lot of sweat and guts for Lowe to get out of that. Fortunately he already has the "sweat" part down.
9:55
— Furcal's on base now. The question is not IF he'll be stranded, but
which base
. Here's to "second."
[huffs aerosol can]
Commercial Break
Somehow Burger King found a way to make a creepy commercial without using The King. The Burger King 'Shroom and Swiss Steak Burger didn't even look good on screen, but that certainly must mean it tastes great, right?
Top 5th
9:49
— If you picked "bottom of fourth and top of fifth" as the time to take a power nap, you won the ultimate prize. Lowe cuffs down Rollins, Werth and Utley in the kinkiest fashion, quickly exiting the inning. That's now seven straight outs in the game total.
Bottom 4th
2


1
9:41
— Oh, Tim. Never change. As Derek Lowe stepped up against Joe Blanton: "This is kind of a pitcher vs. a pitcher." Kind of? (Oh, by the way, two strikeouts and a lineout gives Blanton a
one-ta-hoo-thrrreeee
.
9:36
— Oof. Cardinal mistake by Joe Buck. "Celebrities are out" followed immediately by "James Brolin." Thats' why Joe's star on the Walk of Fame got "lost in the mail."
Top 4th
9:33
— My, my. I got so worked up talking about ball rubbing I hardly noticed Joe Blanton in the batters box, wielding a bat, swatting at Derek Lowe's pitches like a poorly-animated 8-bit video game. Blanton's competence at the plate reminds me to check the score of the Browns game.
[click]
Wow, 10-7 Browns? Did Cleveland get inspired by Toledo's upset over Michigan in that really horrible teams are capable of impossible things? Or was that a Kevin Garnett commercial I saw?
9:30
— What the ... Tim McCarver used a fact tonight. All baseballs are rubbed down by
Lena Blackburne's Baseball Rubbing Mud
. There's even a video on that website on how you rub down a ball. Executive producer: YOUR MOM.
9:29
— Please, could we have ONE game where we don't discuss rubbing down balls?
Bottom 3rd
2


1
9:24
— What's what, Utley? You're gonna cheat left on Loney? Well, that's ... cheating. Loney's ground ball just beats Utley to the outfield on his right. Corners are yellow. No worries, a combination of Burrell and Rollins conspire to somehow find DeWitt's pop fly. Remember when this game had lots of runs?
9:23
— Oh, that's how they were going to get Manny out. Martin grounds into a forceout. Clever strategy by the Phillies. I didn't even see it coming.
9:21
— Ramirez intentionally unintentionally walks. I wonder if that was on purpose.
Top 3rd
9:15
— Utley's single was surrounded by a trio of nothing at-bats. Let's move on.
9:11
— That was ... unexpected. Fox shares pictures of Chase Utley as a kid, who played the violin and owned a parrot. What does this mean? He knew how to pleasure himself, giving him ample ability to stay busy on road trips.
Bottom 2nd
2


1
9:06
— Furcal notarizes Lowe being stranded at first by flying out.
9:05
— Hey, good thing Pierre tried to move up to second. Because Derek Lowe reached base after Rollins' basket catch hauled in nothing but fail. Why have two runners on when you can have a pitcher stranded at first with two outs?
9:03
— Tim McCarver: "Something just happened, that I had not seen in years." That's a good solid comedy pyramid foundation, people. And no, it wasn't the single Juan Pierre just hit. And it certainly wasn't Pierre getting caught at second, either.
9:01
— Casey Blake
used
to have the best beard in baseball. But LA has clearly changed him. It used to be all gnarled and woolly, and you could probably hang your keys on the chint. No more. Blake strikes out, which is what he gets for destroying one of baseball's great natural preserves.
Top 2nd
8:57
— Jimmy Rollins is trying reallyreally hard not to pull the ball, reports sorta-on-the-field-but-not Ken Rosenthal. Rollins responds by not pulling the ball at all, but instead watching strike three go by him.
8:55
— Joe Blanton swings the bat with the same fervor that women have when they squish spiders. Strike out, two out.
8:53
— Carlos Ruiz, thanks for nothing. His hit barely made it to the infield grass, which would be a triple ion T-ball, but instead just adds an out to the scoreboard, hanging Dobbs at second.
8:50
— Lowe has himself a new set of threads. He even remembered to rip off the price tag. And yet he forgot to pitch away to Greg Dobbs, who starts off with the doubliest of doubles.
Bottom 1st
2


1
8:47
— Blake Of The Witt lines straight to Howard. The bar for pitcher hittability has been set pretty high already.
8:45
— And the intentional walk works to perfection. Oh, they didn't get out of the inning — Loney hit an RBI double that was feet away from being a three-run shot — but it wasn't TWO runs, like it would have been if Manny Ramirez hit a home run. Brilliant move.
8:42
— Fox gives us Joe Blanton's pitcher profile: "Can Be Wild." Oh, he will.
8:42
— It's the first inning, and already we have an on-purpose walk of Manny Ramirez. Do they not have faith in Blanton that he can walk him unintentionally by himself?
8:41
— Rafael Furcal knocks one to third that wicks off Greg Dobbs' glove, then moves up to second on Andrew Ethier's puny-enough ground ball that can't be turned into a DP.
8:39
— EXCLUSIVE FOOTAGE of Derek Lowe tossing a thing of refreshing hydrating beverages in the dugout. Also his jersey is a little ruffled, and he may need a new one. No worries. The Dodgers have an entire warehouse of unsold Derek Lowe authentic uniforms, and even some Lowe #23 babydoll three-quarters tees. Guess it's time to start placing bets on what he picks.
8:38
— The starting lineup, brought to you by Clayton Kershaw. (Bless you.) What emphatic delivery! Boom certainly went the dynamite.
Top 1st
8:35
— Shane Victorino ... FROM? From?! C'mon, Berman would have been right on cue. As a penalty, Victorino grounds into a double play. Just the two runs, ma'am.
8:34
— Pat Burrell will walk to first. He's good at that. Heck, we all are. We're just not good at the "don't swing at four pitches," or even the "stand in the batters box with fastballs going that fast without pissing yourself."
8:31
— See, that's how Ryan Howard can get more RBIs. He can still hit lame groundballs into the shift, but he just needs to make sure his teammates do all the work for him by reaching third with less than two outs. Then he'll have all the RBIs and eat at Subway like a king! Werth scores, two of 'em out.
8:30
— Chase Utley? But he's not running from me. Oh, wait, there he goes ... he just ran to second after lacing a double down the right field line, getting Rollins on home. Do I still have to chase him?
8:28
— There's an absolute goldmine of an endorsement deal for Jayson Werth. "Mr. Jaysonwerth maple syrup." His single finds a hole on the left side of the infield, and the corners are loaded. FOX'S KEYS TO THE GAME:
Phillies
: "Use Last Night As Rallying Point." Well, I
guess
a team could look at the meaningless run they scraped together in the waning innings of last night's loss. Better key to the game: "Visualize Home By Pretending There Are Fewer Pretentious TV Producers in Stands."
Dodgers
: "Food Tastes Better At Home." You mean, like, SUSHI? C'mon, say it. Better key to the game: "Just Remember: You're Trying To Hit Off Joe Blanton. JOE BLANTON."
8:25
— Jimmy had trouble getting hits. Jimmy likes getting on base. Jimmy is pretty sweet on you. Jimmy Rollins is on base with a leadoff hit.
8:23
— Hmm, that's close. We had a "Flyin' Hawaiian" nickname drop, but it was from Gary Matthews, Sr., who might not know any better. Let's not count it, because it'll be more evident in the broadcast anyway.

Pre-Game Babble
Something has to give. Either one of these teams will beat the other on the road, or the Phillies will finally lose a game during a Deadspin live blog. Once one of these laws of nature is broken, expect sulfurous rain, earthquakes, and the stock market to fall below 10,000. It's difficult to say how one should behave or life will unfold in this strange new world, especially since we'll still have more games left in the NLCS, but what's the point when small sample size trends are already broken? That's the whole point of NLCS stats and records. It's the kind of series that puts MVP trophies in the hands of David Eckstein and Craig Counsell and ... hey, waitaminnit, they're the same person! I've never had both of them on my fantasy team at once. And if you didn't hear, there was a fight between these two teams. This will be a factor in the game, as evidenced by baseball analysts saying it will be (when asked in the scrolling ticker: WILL FIGHT BE FACTOR?). Whether we have another
Mortal Kombat-like confrontation
remains to be seen. Give a man a bingo card, and he will play for a day. Teach a man to make bingo cards, and I'm out of a goddamn job. Hands off!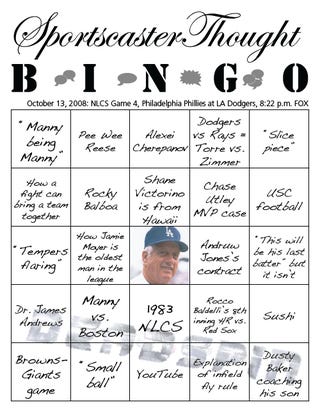 Note: So, last time, we had a bit of a server error where the live blog didn't, um, in technospeak, "work." If this happens again, stay tuned, the live blog will eventually show up, even if it's not until the next morning, in which case someone turned the Gawker server into "newspaper mode," where you have to wait for what I say until you drag your ass into work tomorrow. It's one of the less-touted server features of Windows XP Service Pack 3. Fortunately, DUAN and bingo tagalong never* causes a server dump. * - Okay, but only sometimes.