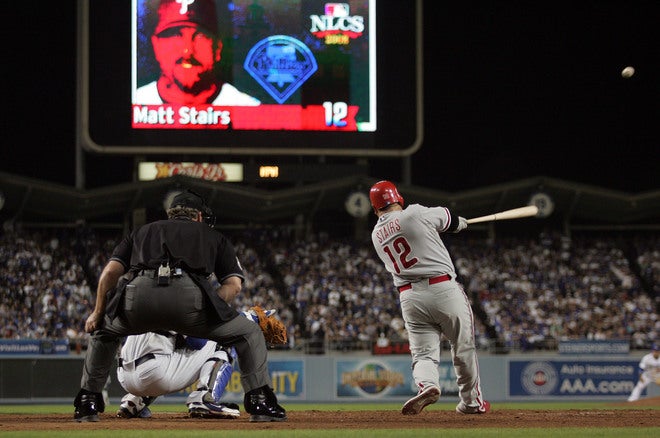 When the Philllies added journeyman hitter Matt Stairs to their roster August 30th, it was a move that barely registered on most people's radar. Another left-handed bat off the bench seemed like something the Phillies didn't need — even though Geoff Jenkins was recovering from an injury — but with everyone else in the National League making significant, flashy moves for their playoff push,this was a shoulder shrug. He was touted as a "professional hitter" which seemed insulting to Gregg Dobbs, whose left-handed pinch-hitting prowess was already a proven commodity on this Phillies team. He had 17 at bats with the Phillies, six hits, including two home runs, and one of those came in the last game of the season when the Phillies already had the division locked up. Last night, with one of his typical let's-see-if-I-can-hit-that-water-tower swings of his, 40-year-old, Canadian-born Matt Stairs finally came through. He finally feels like part of this team, he told reporters after the game, and if the Phillies continue on to the World Series, he might have a Tasty Kake named after him. Or lots of prospective boyfriends .
"You want to get that one big hit where you feel like you're part of the team … not that I don't feel like I'm part of the team, by no means, but when you get that nice celebration coming into the dugout and you're getting your ass hammered by guys, it's no better feeling than to have that done."
Moving on... This city reveres a player like Matt Stairs simply by virtue of his pear-shaped body and graying goatee. Once he put on a jersey, a friend of mine said that "He looks like a guy who's dressing like the 1993 Phillies for Halloween." After last night's home run, he'll probably get the same fawning treatment as those derelicts do anytime they come back to town. So Matt Stairs, it's been long overdue, but welcome to Philadelphia. You can stay as long as you want. Phillies lead the series, 3-1.
Matt Stairs' moment
[Philly.com]
Video: Shane Victorino and Matt Stairs
[The700Level]
No ordinary come-from-behind-win for the Phillies
[ESPN]
Just a win away
[Philly.com]
MLB Quote of the Year: Matt Stairs
[The Fightins]