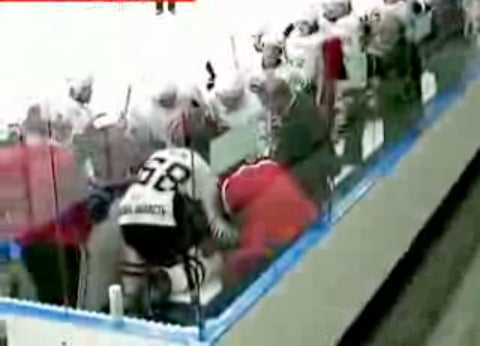 Yesterday's story about the tragic death Rangers prospect Alexei Cherepanov has taken a more disturbing turn now that amateur video (available after the jump, watch if necessary) of the final minutes of his life has been revealed. The official medical report lists his death as chronic ischemia, a condition in which not enough blood gets to the heart or other organs, and his death was not caused by any contact as was originally reported . Now Russian league officials are angry and concerned, calling out both the actions of the emergency workers at the game facility and why Cherepanov was even playing with this disease .
Pavel Krasheninnikov, who sits on the Russian Hockey Federation's supervisory council and is a member of the State Duma, said there was no ambulance on duty at the arena where Cherepanov's Russian team, Avangard Omsk, was playing. He asserted that emergency workers took too long to respond and didn't have a defibrillator, a machine used to shock the heart. It was unclear how much time it took paramedics to respond. "There are elements of negligence here," Krasheninnikov said in televised comments.
Both Rangers officials and Cherepanov's North American agent say the young forward cleared all of his recent physicals and there was no evidence of the potentially fatal disease. The video of Cherepanov's final moments on the bench before he's limply carried away without a stretcher, which Wyshyinski
appropriately calls "repulsive."
does reveal a disturbing reality of the KHL . The Russian crowd, obviously unaware of the severity of the situation applauds as Cherepanov is carried off the bench, hopeful that he'd be okay. The odd music piping through the arena at the time also adds an eerie element to it.
Alexei Cherepanov tragedy gains clarity as tributes pour in
[Puck Daddy]
Rangers Prospect Dies After Collapsing in Game
[NY Times]