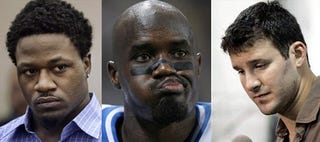 The NFL trade deadline is just 45 minutes away, and, yes, most of the time, the blockbuster deals usually involve special teams players and future draft picks and kicking tees, but this one could be somewhat intriguing. And one team that might look a whole lot different going into this weekend than previously suspected are the Dallas Cowboys: 1.
Farewell, Adam Jones:
It was in the rumor stages earlier today, but Roger Goodell has unleashed his mighty wrath upon trouble-making defensive back Pacman Jones and suspended him for his latest dust-up. ESPN's Chris Mortensen reports that "Goodell will determine the final length of Jones' suspension following the Cowboys' Week 11 game against Washington on Nov. 16, the league said." Depending on the pending investigation, Pacman could also be in violation of his parole and may wind up in the clink for the fight with his bodyguard. So that experiment went well. [
ESPN
] 2.
Roy Williams on the way ?
The Cowboys are supposedly in serious discussions with the Lions about trading for Roy Williams, according to
PFT
and other "sources" regardless of what the Lions say. So Patrick Crayton and Miles Austin, it was nice knowing you. The only thing is, would the addition of Williams make any bit of difference with Brad Johnson's 40-year-old arm chucking balls? Probably not. But
consider the addition of Roy Williams
if... 3.
Romo might play.
According to some media sources, Romo had a conversation with one veteran quarterback after he broke his pinkie, seeking sage advice from this grizzled gunslinger about what to do. And, what do you think this man known for his career-long durability had to say to Romo? So, don't be surprised if Romo finds a special pinkie sling and toughs it out if he isn't in jeopardy of permanently mangling his throwing hand digit. Besides,
his team needs him
to be that guy right now. We'll find out soon enough...