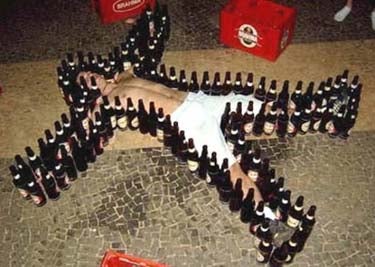 How to describe the Tartan Army, the kilt-clad fans of the Scottish national soccer team? This photo should give you a taste . But wait, that depicts only two or three drunken Scotsmen. For a true depiction of these dedicated fans, one should read the following account of a police crackdown prior to Scotland's World Cup qualifier against Norway at Hampton on Saturday. From The Evening Times :
And transport officers armed with dip strips tested liquids carried by fans, which are often disguised in containers not normally used for alcohol. The BTP operation, involving eight police forces, led to 240 gallons of booze being seized from fans. Of this figure, 130 gallons were seized on trains and stations en route to the match.
Only
240 gallons of booze? And you call yourselves Scotsmen? I kind of feel sorry for the Tartan Army, though: They had to watch a 0-0 match completely sober. And,
as The Beautiful Game pointed out
, it was a match that included this: As a 49ers fan, I can relate.
240 Gallons Of Booze Seized From Soccer Fans
[The Beautiful Game]