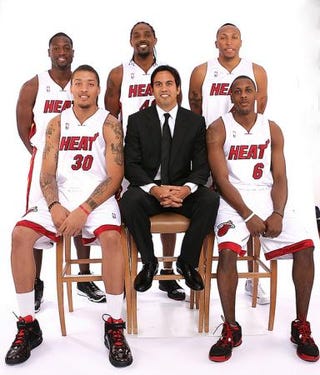 NBA training camps have begun; the season is rapidly approaching. Can you dig it? I knew that you could. And so we continue our previews: 30 of them in 30 days. Up next is a team that can only get better because they couldn't possibly get worse (I think): The Miami Heat.
When last we saw them:
Finished 15-67, fifth in Southeast Division, 15th in the East, dead last in NBA...and in our hearts. [
Insert sad walking away music here.
]
Walking through that door:
Jamaal Magloire, James Jones, Super Mario Chalmers, Michael Beasley, Shaun Livingston (maybe), Yakhouba Diawara (gesundheit!)
Not walking through that door:
Alonzo Mourning (but I'm sure he's still flexing somewhere), Jason Williams, Ricky Davis, and all those D-Leaguers they had to sign just to have 12 warm bodies on the roster last season
The Good:
Dwyane "I'm finally healthy again" Wade looked so good in the Olympics that it was like he'd been
exposed to Cosmic Rays
or
rebuilt almost entirely out of bionic parts
. He was strokin' the J, shutting people down, and running and dunking with an athleticism we'd all sort of forgotten he had. Shawn Marion brings that do-everything, can't-see-it-all-in-the-box-score goodness wherever he goes (even to children's parties!).
And
he's playing for a new contract. (Never underestimate the power of the
Contract Year Phenomenon
.) Michael Beasley was a monster in college (26.2 PPG and 12.4 RPG as a freshman at Kansas State last season), and he should be, like, a mini-monster almost immediately in the NBA (especially since he won't be the focal point of the team). Keep in mind that Beasely is one of, like, five or six low post scorers in the entire league. Udonis Haslem is strong on the boards and provides a steady stream of mid-range jumpers. Pat Riley's obsessive control freakiness will be operating upstairs and away from the players. (Unless he decides to descend from the darkness and take over again. But what are the chances of...oh, wait, never mind.) Oh, and Mark Blount could totally win a hot dog eating contest, any time, any place. Don't test him. Okay, okay, go ahead and test him.
The Bad:
D-Wade, Marion and Beasley are a nice one-two-three combo, but past that? Mark Blount is their center. Their
starting
center. At the point, they'll be starting either Mario "I'm a rookie!" Chalmers, Marcus "Me, Me, Me!" Banks, or Chris "Holy crap how am I still in the league?" Quinn. That, my friends, is what we call a
triple-threat negative
. And when that kind of
trash
dubious talent finds its way into your starting lineup, it sort of indicates what you can expect from the bench (James Jones and Jamaal Magloire are as "good" as it gets.) Unless Wade lets these guys in on the Power of Greyskull or whatever it is he's been channeling lately, the Heat
could be
are in trouble. Mind you, this mish-mash of a team - the Heat had the highest player-for-player turnover in the entire league, by the way - is being governed by rookie head coach Erik Spoelstra, who's best known for...well, crap, I have no idea. Let me check
his NBA.com bio
: "Known for his game preparation and superb attention to detail as the Heat's Assistant Coach/Director of Scouting, Spoelstra had the primary role of developing game plans for upcoming opponents for the past seven seasons." So he was developing game plans for last year's 15-win squad? This should work out just great then!
Fun Facts:
The team is referred to as the HEAT (all capital letters) in most official team publications. And I don't think it's a simple Caps Lock error, so let's do it here too! The HEAT have two retired numbers, and neither one honors a former HEAT player: The first is Michael Jordan's number 23 (because Pat Riley was secretly in love with him), and the second is Miami Dolphins legend Dan Marino's number 13 (because the HEAT felt sorry that Dan never won anything in his career). Rumor has it that when Riley finally calls it quits, the HEAT will become the first team to ever officially retire a former coach's hair. Only one HEAT player has ever received NBA Rookie of the Month Honors: Caron Butler did it four times (November 2002, January through March 2003). The HEAT's
alternate logo
is kinda lame. And I bet you never even knew they had an alternate logo. HEAT mascot
Burnie
was once sued for $1 million after
he "assaulted" the wife of a U.S. federal court judge
.
Videotastic extra:
Speaking of Burnie, here's a little video where he gets assaulted. What is it with Pistons fans and throwing beers?