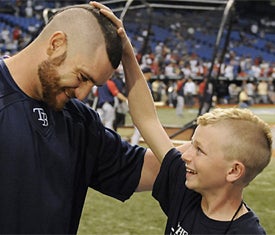 Remember Zachary Sharples, the Florida 12-year-old who was suspended by his middle school for showing up with a Rayhawk haircut? As you may have guessed he's now a minor celebrity, having been invited onto the field at Tropicana to meet Rays players on Saturday, and appearing on ESPN's First Take this morning. Quite a whirlwind journey, and he didn't even have to fall out of the stands . Rays' DH Jonny Gomes read about Zachary and arranged for him to meet most of the Rays players on Saturday, including Carlos Pena, who offered to write his principal a note. Zachary also got an autographed bat.
"The kid got punished for being a Rays fan," Gomes said. "What's wrong with that? Hopefully, we've got a Rays fan for life — a Jonny Gomes fan for life. To make the kid's day — maybe make the kid's year — is awesome."
So the pattern is clear, I think: Befriend a kid, advance straight to World Series. Expect Joe Torre to adopt three babies and, for good measure, a stray puppy, just before game time today.
ESPN Takes Notice Of Bay Area Boys' Rayhawk
[Tampa Bay Online]