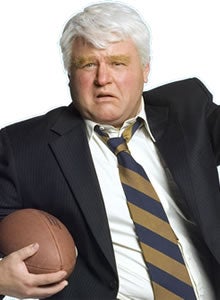 It's pretty easy to complain about those damn "Frank TV" ads that pop up seemingly every commercial break during TBS' postseason baseball coverage and pretty much everyone has. Even Frank Caliendo . (On a side note: I find the DirecTV ads featuring Craig T. Nelson and Heather O'Rourke even more troubling. Do I really need to be sold on this by the ghost of a little girl who died of an obstructed bowel movement? No thank you.) Back to Frank. Apparently one spirited TBS executive angling for employee of the month status insists that the network isn't overdoing it with the "Frank TV" promotions. Big League Stew spoke with TBS exec Jeff Gregor and he said this:
"This is just a hypothesis on my side: You think there are a lot of (FrankTV) spots, but there's actually not as many as you think. They're just so good at entertaining and engaging that when they come on you feel like you just saw one not too long ago."
Gregor also said that TBS is " going to make sure at least that there's a very good variety so that there will be no wear-out of the various jokes that Frank is entertaining us with." Mission accomplished.
TBS exec: FrankTV ads "entertaining and engaging"
[Big League Stew]