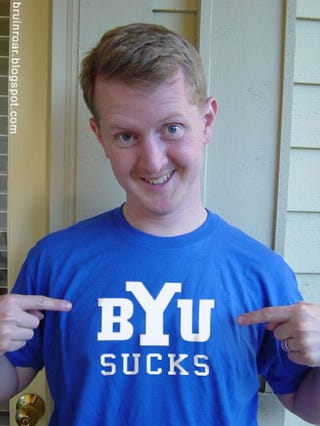 I suppose even the genius who schedules Thursday night games at ESPN is entitled to a mulligan. That's the only explanation for how Florida State at N.C. State ended up tonight's featured game. N.C. State is 2-4 and Florida State is 4-1. N.C. State has taken down William and Mary and East Carolina, Florida State has looked decent except for the offensive implosion against Wake Forest. But Wake is an ACC juggernaut who has beaten FSU three times in a row so we're supposed to forgive that flaw. FSU opened as a 12 point favorite over N.C. State and let's be clear, I'm not even going to pretend this is the most interesting game tonight. Because it isn't remotely close to as good of a game as BYU at TCU. Even if "Jeopardy!" stud Ken Jennings thinks BYU sucks. BYU is undefeated and the darling of the non-BCS football universe. They're going on the road at TCU for a Thursday night game and TCU is now
favored
. You read that right, the line opened at TCU +2 and has since moved to TCU -1. Meaning lots of people who let their money ride on college kids are not impressed by an undefeated and top ten BYU team. Chances are you know nothing about BYU and TCU. So consider this your rough indoctrination. Sort of like when that guy in your fraternity told you to bite down on the dishrag. Wait, what...? First, BYU at TCU is on Versus at 8 eastern. File that away. So for at least one night the programmers at Versus have outgamed the guys at ESPN. Second, you didn't know this (and neither did I) but TCU has one of the best defenses in the country and is only giving up 11.4 points per game. Which would be very impressive if BYU wasn't giving up only 10.2 while starting two white cornerbacks. So both defenses are stout. But what's the most impressive of all stats, TCU is only giving up 19.1 rushing yards per game. That's not a misprint. That's insane. On offense BYU's Max Hall has already thrown for over 1800 yards and 20 touchdowns. Meanwhile TCU's Andy Dalton and Marcus Jackson haven't been nearly as impressive statistically (3 touchdowns and 4 picks between them) but have led their team to an average of 33.7 points per game. Partly because Jackson is a dual threat and leads the team in rushing. TCU is 6-1 with their only loss on the road at Oklahoma. BYU remains undefeated and aside from a final game at home against Utah this game is probably their best chance for a loss. Which means if you're rooting for a BCS debacle then you need to be rooting for an undefeated BYU to keep climbing in the polls. BYU has the nation's longest winning streak at 16. TCU still wishes the Southwest Conference existed. Already this tussle is being called the biggest game in Fort Worth, Texas in a decade. Which is saying something gents. Truly...something. Dare we say this:
are you ready for some Mountain West football?
I know I am. Oh, and on the other station, in the other game, Bobby Bowden will look befuddled 18 times and SU will win by 14. It's really an easy call. Come watch the Mountain West/Pac-10 title be decided on Versus.