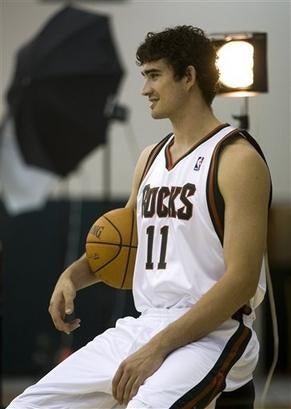 NBA training camps have begun; the season is rapidly approaching. Can you dig it? I knew that you could. And so we continue our previews: 30 of them in 30 days. Up next is a team that is at least as exciting as watching lint collect in your belly button: The Milwuakee Bucks.
When last we saw them:
Finished 26-56, fifth in Central Division and an unlucky number 13 overall in the East.
Newly imprisoned:
(Okay...deep breath...) Adrian Griffin, Damon Jones, Francisco Elson, Joe Alexander, Joe Smith Luc Mbah a Moute, Luke Ridnour, Malik Allen, Richard Jefferson, Tyronne Lue
Free at last:
Bobby Simmons, Desmond Mason, Mo Williams, Royal Ivey, Yi Jianlian Trade
The Good:
New head coach Scott Skiles is sort of a Dr. Frankenstein in the NBA in that he's built imposing monsters (in Phoenix and Chicago) out of a variety of mismatched and slightly decomposed parts. Michael Redd (22.7 PPG last season) and offseason acquisition Richard Jefferson (22.6) can fill it up from the perimeter. And Jefferson - who's an excellent defender, by the way - has actually, you know, experienced some serious playoff action...unlike most of his new teammates. Andrew Bogut is actually a pretty nice center to have around: Last season, he averaged career highs in scoring (14.3), rebounding (9.8) and blocked shots (1.7) and even dished out 2.6 assists a night (doing that on a
single
night would be a career-high for Eddy Curry, I think).
Arbitrary statistic drumroll please
: Since 2000, the only players to average 14 PPG, 9.5 RPG, 2.5 APG and 1.7 BPG in a season are Shaq, Tim Duncan, Kevin Garnett, Elton Brand, Chris Webber, Pau Gasol and Bogut. Charlie Villaneuva is in a contract year, so you know he'll be busting his ass. And, uhm, wow...that's about it.
The Bad:
Let's not mince words here: In 2007-08, the Bucks were to defense what George W. Bush is to the English language. They were dead last in opponents' field goal percentage (.480) and fourth-worst in opponents' three-point percentage (.384). It's called a hand in the face, people. You should really try it some time. But hey, that's why they brought in defensive swami Scott Skiles, right? But it remains to be seen whether he can transmute the marshmallowy softness of Redd and Bogut. Plus, can he get Vilanueva to, like, pay attention and stuff? And who the hell's Luke Ridnour going to guard? He'd get abused by most teams' ball boys. On the subject of Skiles, there's the another point to be made regarding that Dr. Frankenstein analogy: He has a history of wearing out his welcome rather quickly and then getting run out of town by mobs with torches. (
Even on Christmas eve
!) Outside of Bogut, their "best" frontcourt players - Dan Gadzuric, Francisco Elson, Malik Allen and Villanueva - would be a great group of guys to have around if all you wanted was help retrieving things off of shelves that are too high for you to reach. Their one-two punch at point guard (Ridnour and Ramon Sessions) is more like a weak slap. Oh, and did you notice they have 10 new players? Unless you added guys like, oh I don't know, Kevin Garnett and Ray Allen, that kind of turnover rarely leads to a dramatic turnaround.
Fun Facts:
During last year's campaign of horrible, the Bucks made only 54.9 percent of their inside shots (from six feet and closer). That was second worst in the NBA behind the Bulls' 53.6 percent. The Bucks have won 52.6 percent of their games in their 40-year franchise history. That's a winning record! They won a coin flip against Phoenix to get the first pick in the 1969 NBA Draft, but they wasted it on some guy named Lew Alcindor. He must have been a total bust, because I can't find his name in any of the record books. The Bucks had the first overall pick three other times, and they used them on Kent Benson (1977), Glenn Robinson (1994) and Bogut (2005). Former first round pick fight! On Oct 18, 1977 Kareem Abdul-Jabbar (the alter ego of that Lew Alcindor dude) punched Kent Benson during a game and broke his hand. FAIL. Finally, no expansion team in professional sports history earned a championship faster than the Bucks: They won the 1971 NBA title in their third season of existence.
Videotastic extra:
And, once again, I give you the classic Andrew Bogut one-man high-five. I love this video so much, I want to sex it up and raise little YouTube children with it.