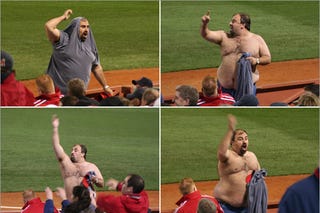 There are many theories as to how the Red Sox summoned the mojo to come back from a 7-0, 7th-inning deficit on Thursday to take an 8-7 win over the Rays and stay alive in the American League Championship Series. Many say that the shocking comeback was ignited by this man — Rick Melanson of Gardner. With the Red Sox trailing 7-0 and things at their bleakest, Melanson suddenly rose and peeled off his shirt, shocking the crowd along the left field line into action. Inspired by his flabby undulations, Boston began their comeback, beginning what may turn out to be the dramatic turning point in the ALCS. But
Melanson's very fat heroics
weren't the only factor on this night. There were other happenings behind the scenes that just may have helped turn the tide for Boston: •
Reverse The Hawk
. According to Red Sox Monster,
it may just have been the Reverse Mohawk
, the hairstyle adopted by some Red Sox fans recently to counter Tampa's popular Rayhawk, that precipitated Boston's comeback. •
Oh You Nasty Boy
. Rays superfan Brian "Nasty Boy" Knobbs
was ejected from the stadium for rowdy behavior
in the eighth inning. This is also seen as a major turning point, as Knobbs had been present in all of Tampa Bays' previous victories in the series. Knobbs, a former pro wrestler, is known as the Rays' official 10th Man.
Red Sox fans of course were quite respectful
as Nasty Boy was being led out of the stadium by Fenway security. UPDATE:
Here's some video
courtesy of Home Run Derby. •
Revenge Of The Condo Gods
. While Raleigh, N.C. Red Sox fan Sean Bunn was out watching the game with friends on Tuesday night,
someone broke into his condominium and vandalized it
, spray painting the New York Yankees logo and pinstripes all over it. Whoever broke in even painted uniform numbers, the 13 worn by Alex Rodriguez and Derek Jeter's No. 2, on the backs of Bunn's dress shirts. (He is considering auctioning the shirts to raise money for the Jimmy Fund, the charitable arm of the Red Sox Foundation.) The Red Sox had lost that night, 13-4, but perhaps angered by Bunn's shabby treatment, the Baseball Gods deemed to turn the tide in dramatic fashion.
Time To 'Reverse The Hawk,' Sox Fans
[Red Sox Monster]