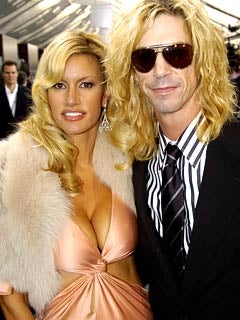 Former Guns N' Roses bassist Duff McKagan has been online diary-ing for the Seattle Weekly , talking about all things Duff-related and this week he tackles a topic near and dear to him: Seattle's struggling sports teams. The cleverly titled "What happened to our teams? " lets Duff engage his inner W.C. Heinz and spout off about the Seahawks (Jim Mora is a rocker! Kinda cool!); the Washington Huskies (None of the top high-school kids want to come here); the Sonics (Gone forever! Bullshit!).When he talks about the Mariners, though, is when it really gets interesting. He shares this amusing anecdote about a little run-in he had at one of his concerts:
I ran into Tony LaRussa at one of my gigs last spring and he was dismayed that the Mariners had passed him over a few months earlier. "They passed you over?!" I exclaimed. "Yeah, it's too bad, I would have loved the gig." Tony LaRussa had just won a World Series with the Cardinals! We need some good management, and I hope they do the right thing this off-season. If not, I suggest we all boycott. Shit, Sweet Lou left because management wasn't allowing him to do his thing as he saw fit.
So, what's more alarming out of this conversation:That Tony LaRussa really wanted the Mariners job, that LaRussa uses the word "gig", or that he's at a Velvet Revolver concert striking up a conversation with Duff? Nothing is processing.
What Happened To Our Teams?
[Seattle Weekly]